Game Preview: Moose @ Admirals – Oct. 29
By: Chris White | Published: October 29th 2015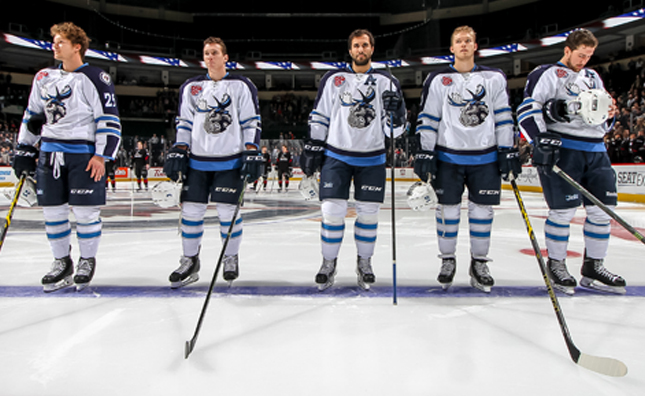 MANITOBA MOOSE @ MILWAUKEE ADMIRALS
BMO Bradley Harris Center – Milwaukee, WI
Thursday, October 29th, 2015
Game time – 7 p.m. CT
Moose Game 7               (0-4-1-1)
Moose Road Game 3   (0-1-0-1)
Listen: MooseHockey.com/listenlive
Watch: AHLLive.com
The Manitoba Moose make their first trip to meet their old division rivals, the Milwaukee Admirals since March 5th, 2011. The Moose are looking for their first win of the season after dropping a pair of games to Lake Erie last weekend in Winnipeg.
Moose-Admirals History
These two franchises have a long history facing each other. Their rivalry dates back to when both teams played against each other as part of the IHL. The Moose have an all-time record of 30-29-3-11 against the Admirals franchise.  In all-time AHL match-ups, the Moose have a record of 20-18-3-3. The two teams never met in the last four years while the Moose franchise played in St. John's.
Strength in Goal 
The Moose are tied for the third lowest goals against in the central division with just 18 allowed. A large part of that has been the play of goaltenders Eric Comrie and Connor Hellebuyck. The duo are currently ranked sixth in the AHL with a combined save percentage of .933.
Hellebuyck Excelling
Connor Hellebuyck have been off to a great start to the young AHL season. Hellebuyck who is in his second season in the AHL led the League in saves a season ago by nearly 200 saves to the next goaltender with 1666. He is currently 10th in the AHL in saves with all but one of the top ten having played more games than Hellebuyck.
Comrie Holding His Own
Rookie netminder Eric Comrie has been nothing short of special in his first two starts of the season. The Edmonton, Alberta native is currently ninth in the league in terms of goals against average (1.94) and fifth in save percentage (.945). In Comrie's one road start this year he shined making 41 saves in a shootout loss to Toronto on Oct. 10.
A Sort of Homecoming
Moose forward Matt Halischuk played for the Admirals for parts of two seasons. The first coming in 2010-11 where he scored 11 goals and 12 assists for 23 points in 37 games. He also played two games with Milwaukee in the 2012-13 season where he registered three points. Tonight he will be playing in his 375th career pro game.  He has played 250 games in the NHL with New Jersey, Nashville, Winnipeg and 124 games in the AHL with Lowell, Milwaukee and now Manitoba.
Scoring Rookie
Admirals' rookie forward Vladislav Kamenev is off to a strong start to his AHL career and will be a player to keep an eye on for the Moose.  The 19-year old Russian is averaging a point per game so far including four goals which leads the team. He is coming off a three point game where he scored two powerplay goals. He is currently 21st in AHL rookie scoring. He is one of six AHL players this year to have recorded both a powerplay and a shorthanded goal, 18 players total have scored a shorthanded goal this season.