Game Preview: Moose @ Checkers
By: Chris White | Published: November 7th 2015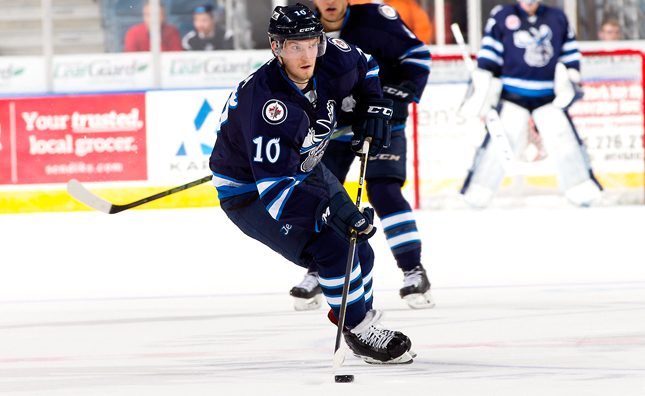 MANITOBA MOOSE @ CHARLOTTE CHECKERS
Bojangles' Coliseum – Charlotte, NC
Saturday, November 7th, 2015
Game time – 6 p.m. CT
Moose Game 10 (1-6-1-1)
Moose Road Game 6 (1-3-0-1)
Listen: MooseHockey.com/listenlive
Watch: AHLLive.com
The Manitoba Moose will face the Charlotte Checkers for the first time in franchise history tonight at the Bojangles Coliseum. The Checkers were formally the Albany River Rats and relocated to Charlotte following the 2009-10 season.
Added Help
The Moose had four roster moves this week starting with assistant captain Patrice Cormier was called up to the NHL's Winnipeg Jets. As part of that move the Moose recalled forward Ben Walker from Tulsa of the ECHL. Walker has AHL experience having played 36 games with St. John's last season scoring four points and 16 penalty minutes. On Friday Manitoba recalled defenceman Brennan Serville as well from Tulsa and the team signed Kevin Lynch from the ECHL's Florida Everblades to a professional tryout offer. Serville has yet to play a game in the AHL in his first year of pro hockey while Lynch spent the majority of last season with the Syracuse Crunch where he had four points (3G-1A) in 53 games.
Team Defence
The Moose are only one of two teams in the league that average less than three goals per game (2.78/game) and have a record below .500. The play of goaltenders Connor Hellebuyck and Eric Comrie play a large role in that. The Moose tandem has a combined save percentage of .936 among the very best in the League.
Far From Home
The Charlotte Checkers opened their season on a ten game road trip to start the season as renovations to the Bojangles Coliseum were being completed. During the road trip they had a 6-4-0-0 record. Last season they tied for the third biggest difference in win percentage at home versus at home. Their win percentage at home last season was .539 while on the road it was .368.
First of the Season
Moose forward Austen Brassard scored his first goal of the season Oct. 30 against Chicago on a great breakaway goal. Last season he scored six goals and 18 points in 75 games in his second season in the league. His first goal last season didn't come until December 6th.
Hockey Offspring
The Charlotte Checkers have some famous names on their backend in Lowe and Chelios. That being Keegan Lowe and Jake Chelios. The two are following in the footsteps of their famous hockey playing father's Kevin Lowe and Chris Chelios. The elder defencemen combined for an incredible 2,905 career NHL games combined.