Game Preview: Moose @ IceHogs – Feb. 17
By: Chris White | Published: February 17th 2016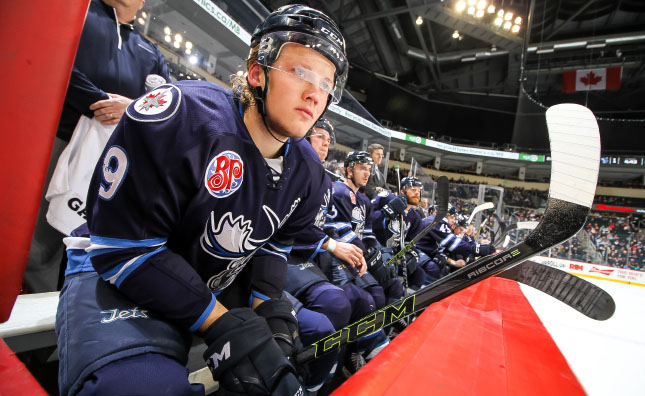 The Manitoba Moose will face the Rockford IceHogs for the first time this season and for the first time since the 2010-11 season. These two teams will face a total of four times this season. This is the first and only time the Moose are scheduled to play a game in the morning this season.
Moose-IceHogs History:
These two franchises have faced each other a total of 16 times in the American Hockey League. The Moose hold an all-time record of 9-5-0-2 in those contests.
Moose Penalty Killing:
For the second time this season the Moose have gone three games without allowing a powerplay goal. The Moose were a perfect five-for-five in their last game which led to a big 5-2 win over Chicago. The Moose powerplay has connected lately as well as in their last two games they have recorded two goals in each game with the man advantage. Rockford has had their own success on the powerplay as they have at least one goal in their last three games with the man advantage.
Moose Road Trip
This morning marks the first game of a five game road trip that will take the Moose to Rockford (Wednesday/Friday), Milwaukee (Saturday) and wrap up with a pair of games against Iowa (Feb. 22/24). Today also marks the 50th game for the Moose this season. The Moose are hitting the home stretch with two-thirds of the season played and 26 games more to play.
Morrissey's Career Game:
Rookie defenceman Josh Morrissey continued his strong play as of late this past week. Morrissey had a big goal against the Texas Stars on Wednesday which got the momentum back on the Moose side to start a three goal comeback rally. The Calgary, AB native had a career high four points with a goal and three assists on Sunday in a big 5-2 win over the Chicago Wolves.
Petan's Scoring Touch:
Rookie forward Nic Petan has been one of the hottest players on the Moose lately. The Delta, BC native scored his fifth goal in the month of February on Sunday. In his six games this month he has recorded five goals and an assist for six points. In his last 11 games, Petan has averaged a point-per-game with six goals and five assists. He continues to lead all Moose players with a 0.73 point per game average this season.