Game Preview: Moose @ IceHogs – Feb. 19
By: Chris White | Published: February 19th 2016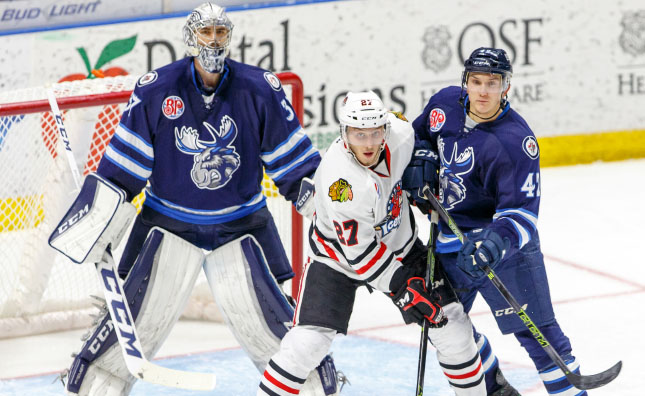 The Manitoba Moose will face the Rockford IceHogs in the second of four meetings this season. This will be the final time they play in Rockford during the regular season. The two teams still have to play the Winnipeg leg of the season series which will take place on Apr. 9 & 10 at the MTS Centre.
Moose Coming In:
The Moose enter tonight's game having won their last two games by matching 5-2 scores, one against Rockford and previous to that against Chicago last Sunday at the MTS Centre. Manitoba has earned at least a point in five of their last six games posting a 2-1-2-1 record.
Moose Penalty Killing:
The Moose had a perfect penalty kill for the fourth straight game on Wednesday against Rockford which is a season high. They are 15-for-15 during this four game stretch including matching a season high by killing off seven powerplays this past Wednesday.
Moose Powerplay:
The Moose scored a powerplay goal for the third straight game on Wednesday, matching a season high for consecutive games with a powerplay goal. In their last three games the Moose powerplay has gone five-for-eight, scoring at a 62.5% clip.
Hatty For Cormier:
Forward Patrice Cormier recorded a hat trick in the first game of the series against Rockford on Wednesday morning. Cormier earned the hat trick by recording an even strength goal, a powerplay goal and a shorthanded goal. It was his second career AHL hat trick and first since Mar. 29, 2012 while he was with St. John's.  It was the native of Moncton, New Brunswick's first three road goals of the season as his previous nine were scored at home. In his last six games he has recorded three goals and five assists for eight points. It was the second hat trick scored by a Moose player this season, Chase De Leo had the other on Dec. 19, 2015 against Milwaukee.
Lipon Back In:
JC Lipon returned to the Moose lineup in Wednesday's game after missing Manitoba's previous game. He recorded a goal and an assist to go along with a fight in the game. Lipon has been one of Manitoba's most consistent players this season and recorded his second "Gordie Howe hat trick" on Wednesday. In his last five games, Lipon has two goals and eight assists for 10 points and he currently sits tied for second in scoring on the Moose with 10 goals and 17 assists for 27 points. He is second on the team in points-per-game average with 0.69 and is second in penalty-minutes-per-game average with 2.05. The native of Regina, Saskatchewan led his team in penalty minutes in each of the last two seasons.