Game Preview: Moose @ Marlies – Oct. 9
By: CK | Published: October 9th 2015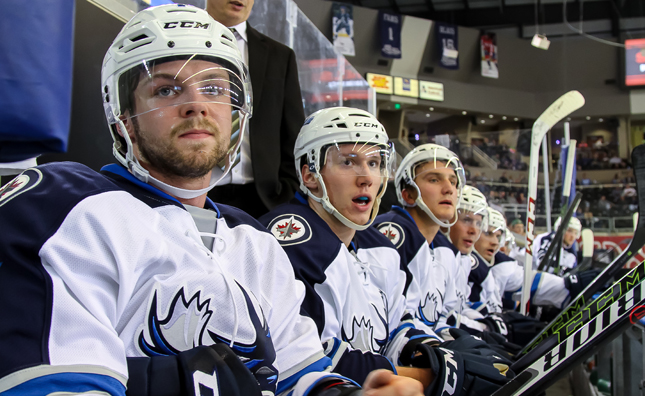 MANITOBA MOOSE @ TORONTO MARLIES
Ricoh Coliseum – Toronto, ON
Friday, October 9, 2015
Game time – 6 p.m. CT
Listen: MooseHockey.com
Watch: AHLLive.com
The Manitoba Moose make their exciting return to the AHL after a four year absence against their long-time rivals the Toronto Marlies. The Moose spent the last four seasons as the St. John's IceCaps playing their last game in Manitoba in 2011. Last season the club had a 14-18-4-2 record on the road and had a 3-1-0-0 record against the Marlies including a 1-1-0-0 record in Toronto.
The Moose franchise has an all-time AHL record of 6-5-3-0 in season openers and a record of 3-3-2-0 when opening the season on the road.
Moose History
The last Moose game was played on May 9th, 2011 at the then Copps Coliseum against the Hamilton Bulldogs. It was game seven of the division finals and in triple overtime. Hamilton's Dustin Boyd beat then Moose goaltender Eddie Lack after taking a shot from a bounce off the boards for the win. It was 22 days after that loss on May 31, 2011 that it was announced that the NHL Jets were returning to Winnipeg and the Moose ended up in St. John's shortly after. The Moose were originally part of the AHL from 2001 through 2011.
Pre-Season Wrap
The Moose played to exhibition games during the pre-season against the Iowa Wild in Grand Forks and Fargo, North Dakota. Manitoba split the games with a 1-1 record after defeating the Wild 3-0 on Oct. 2 and had a 2-1 loss on Oct. 3. Axel Blomqvist (1G, 1A) and Chase De Leo (0G, 2A) led the team in scoring during the pre-season while Eric Comrie posted a shutout in net and Connor Hellebuyck had a .939 save%.
AHL Debuts
Six players on the Moose roster will be looking to play their first AHL games tonight. Axel Blomqvist (WHL/Moose Jaw), Chase De Leo (WHL/Portland), Jiri Fronk (USHL/Cedar Rapids), Thomas Raffl (Austria/Salzberg), Jan Kostalek (QMJHL/Rimouski) and Brennan Serville (Big-10, U. of Michigan) are all new to the AHL this season.
First Year Pros
The Moose have five players who got a taste of the AHL in the past and will be entering their first full year as professional players. Eric Comrie (five games played), Jimmy Lodge (one game), Aaron Harstad (five games), Peter Stoykewych (six games) and Josh Morrissey (eight regular season, 20 playoff games).