Game Preview: Moose @ Stockton – Jan. 23
By: Chris White | Published: January 23rd 2016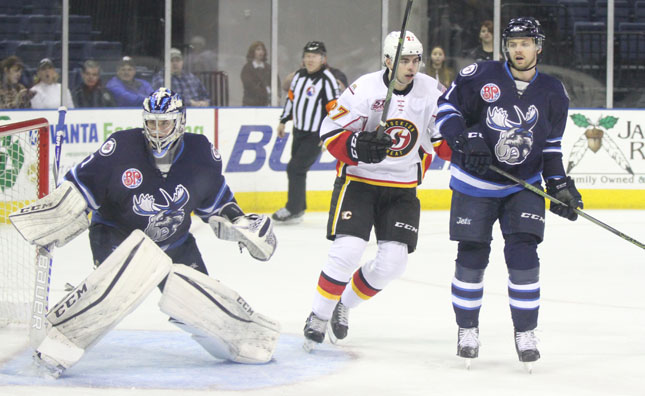 This is the second of four meetings between the Moose and Heat this season. Tonight will be the final meeting at the Stockton Arena as the two teams will wrap up the season series on Mar. 21 & 23 at the MTS Centre in Winnipeg.
Comrie's Season High:
Goaltender Eric Comrie had a career high 49 saves in last night's game against Stockton, it also matched a season high in saves for any AHL goaltender. He has made 18 consecutive starts and played in 24 of the last 25 games in the Moose net. He has been solid in goal and has arguably been a star in every game this season with a 2.79 goals against average and a .915 save percentage. Comrie recorded his first career AHL shutout on Jan. 13 in a 4-0 win over Lake Erie. Comrie sits in first among all AHL goaltenders in saves with 845.
Leading Scorer:
Forward Chase De Leo has been nothing short of impressive this season in his first year of pro hockey. The La Mirada, California native has an assist in each of his last two games and continues to be tied for the team lead in points with 22 (11G, 11A). He is tied for 14th among AHL rookie scorers. He leads the team with 99 shots on the season, good for second among AHL rookies and 26th in the league overall.
The Other Scoring Leader:
Brenden Kichton had the big game tying goal in the third period. It was Kichton's fourth goal of the season and along with his 18 assists gives him the co-lead in scoring for the Moose with 22 points. It was Kichton's third goal on the road this season and his first since Nov. 20 against Bakersfield. He is tied for 15th among AHL defenseman in scoring.
Morrissey's Impact:
Rookie defenceman Josh Morrissey continues to show why he was a first round pick of the Winnipeg Jets in 2013. Morrissey is second on the Moose in scoring by a defenceman with two goals and nine points on the season and is also second on the team in shots with 77. The Calgary, Alberta native has been focused this season on developing the defensive side of his game and has shown increasingly that he can also play a physical game.