Game preview: Moose vs. Rampage – Mar. 4
By: Chris White | Published: March 4th 2016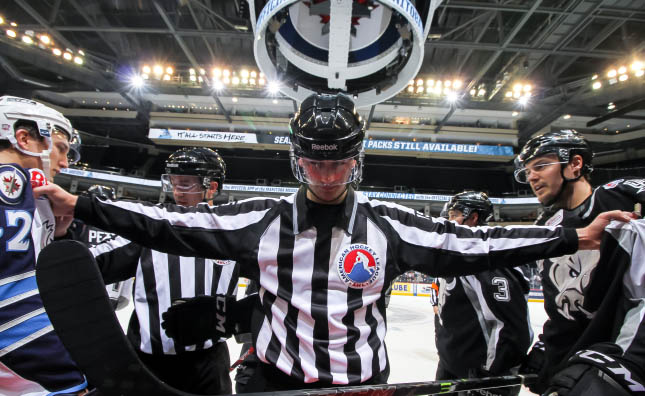 The Manitoba Moose take on the San Antonio Rampage in their third meeting this season and first in San Antonio. So far the Moose have a record of 2-0-0-0 in the season series having won both games that took place at the MTS Centre back in December.
Last Time in San Antonio:
The Moose last played a game in San Antonio against the Rampage on March 12, 2011 in what was a runaway 7-2 win for Manitoba. Bill Sweatt scored two goals while Cody Hodgson, Shawn Weller, Aaron Volpatti and Sergei Shirokov all had multi-point efforts. Eddie Lack was the winning goaltender making 27 saves.
Moose Coming In:
Manitoba finished February with it being their best month of the season posting a record of 6-5-1-1. In their last 10 games the Moose have lost just three games in regulation, playing at a .600 points percentage rate. When you go further back the Moose, in their last dozen games, the team has never lost by more than one goal. In their six wins during that stretch the Moose have outscored their opponents 30-14.
Goals For:
The Moose have shown tremendous growth and development in their offensive game. The Moose have scored five or more goals five times in their last dozen games including a season high seven goals against the Charlotte Checkers on Feb. 27 in a 7-2 victory. Manitoba has come a long way since they started, scoring over two more goals per game on average. In October the Moose averaged just 1.38 goals-per-game and last month averaged 3.53 goals-per-game. When you combine that with the tremendous all-star calibre goaltending they have received from Connor Hellebuyck and Eric Comrie the team has produced more wins.
Moose Powerplay:
What has been a key factor in getting the Moose more goals has been success on the powerplay. In their last 10 games the Moose have gone an incredible 9-for-32 to equal 28.1 % with the man advantage. The Moose powerplay which once ranked at the bottom of the AHL has now jumped to 19th and climbing. Manitoba has scored at least one powerplay goal in their last three games and seven of their last nine. Even more impressive in that stretch is that only JC Lipon has scored twice on the powerplay and the Moose have had a different goal scorer on each other goal. Not to be outdone, the Moose penalty kill has been spectacular in its own right in the last 10 games going 40-for-44 for a total average of 90.9%.