Game Preview: Moose vs. Reign – Oct. 17
By: Chris White | Published: October 17th 2015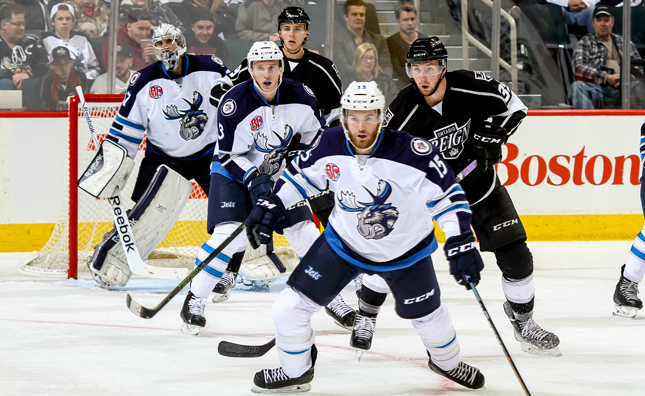 ONTARIO REIGN VS MANITOBA MOOSE
MTS Centre – Winnipeg, MB
Saturday, October 17th, 2015
Game time – 7 p.m. CT
Game 4                (0-2-0-1)
Home Game 2   (0-1-0-0)
Listen: MooseHockey.com/listenlive
Watch: AHLLive.com
The Manitoba Moose will look for their first win of the young season when they have a rematch against the Ontario Reign at the MTS Centre.
Home Opener Recap
The Moose played their first game in Winnipeg in four years in the Home Opener on Thursday night. Ontario were led by second year forward Michael Mersch who scored two goals leading the Reign to a 4-1 victory. Patrice Cormier had the one goal for Manitoba while Connor Hellebuyck made 21 saves in the loss.
Defending Champs
The Reign franchise while in Manchester as the Monarchs last season won the Calder Cup as AHL Champions. Ontario has fifteen returning players from last year who were a part of that championship. Manchester had a 15-4 record in the playoffs and defeated the Utica Comets in the finals four games to one.
Points from the back end
Manitoba third year defenceman Brenden Kichton is averaging a point per game through three games this season which leads the team.  He added an assist in the Home Opener after scoring a goal and an assist in the first game of the season Oct. 9th in Toronto.  Jay Harrison leads the team in goals with two and is second in shots with eight.
Stop Mersch
Second year Ontario forward Michael Mersch was named the first star of the game in the opener with his two goals. Mersch has had success against the Moose franchise so far in his career. Last season while playing against St. John's, the fourth round LA Kings pick, scored three goals and three assists for six points in 10 games.