Game Preview: Moose @ Wolves – Dec. 2
By: Chris White | Published: December 2nd 2015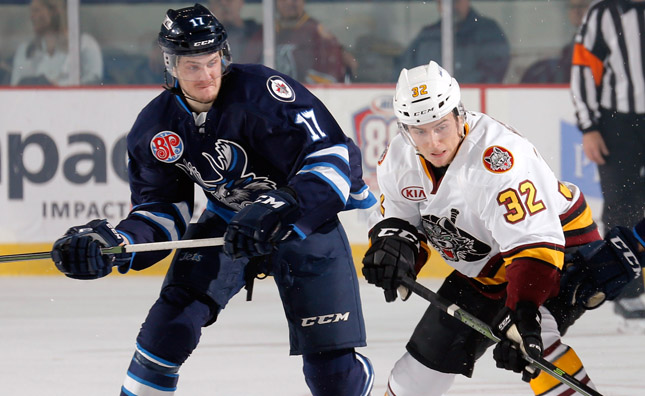 MANITOBA MOOSE @ CHICAGO WOLVES
Allstate Arena – Rosemont, IL
Wednesday, December 2nd, 2015
Game time – 7 p.m. CT
Moose Game 19 (5-11-1-1)
Moose Road Game 11 (3-6-0-1)
Listen: MooseHockey.com/listenlive
Watch: AHLLive.com
The Manitoba Moose face the Chicago Wolves in the fifth of eight meetings between these two clubs this season. The Wolves hold the edge in the season series 3-0-1-0, but the Moose won the last meeting on Nov. 13 with a dramatic overtime victory in Winnipeg.
Previous Season Meetings:
The Moose and Wolves have played some tight hockey games in each of their previous four meetings. Chicago had the upper hand in the first three with wins of 3-1 (Oct. 30), 2-0 (Nov. 1) and 5-3 (Nov. 12). Manitoba finally broke through in the two team's last meeting on Nov. 13.  Jiri Fronk tied the game midway through the third period and Joel Armia had a thrilling overtime breakaway goal to give the Moose the 3-2 victory.
Different Wolves:
The last time the Moose saw the Wolves they had a firm grip on the top of the Central Division standings. Since the overtime loss to Manitoba on Nov. 13 the Wolves have lost five of six games including their last three which has dropped them to fourth in the Central Division.  In that span the Wolves have been outscored 18-9. The fourth spot in the Central Division is a key spot as that is the final playoff spot in the division (minus a crossover). The Moose are currently eight points behind the Wolves for that spot.
First Goal for Raffl:
Thomas Raffl scored his first career AHL goal in the first period on Tuesday night in Milwaukee. The native of Villach, Austria earned his first goal in his fifth career AHL game. He missed thirteen games after being injured in the season opener, Tuesday was his fourth game back in the lineup.
Captain GWG's:
John Albert scored his first goal of the season on Tuesday against Milwaukee and it was the game winning goal. He has now scored nine career game winning goals with the Moose franchise dating back to his four years with the team in St. John's. He moves into a tie for ninth on the all-time franchise list for career GWG's.
Key Opposition:
Three forwards for the Wolves have averaged a point-per-game against the Moose in the previous four meetings this season. Jeremy Welsh (3G, 1A), Ivan Barbashev (1G, 3A) and Zach O'Brien (1G, 3A) have given Manitoba a handful this season. Wolves leading scorer Pat Cannone isn't far behind having scored two goals and three points against the Moose in four games this season.