Game Preview: Moose @ Wolves – Nov. 1
By: Chris White | Published: November 1st 2015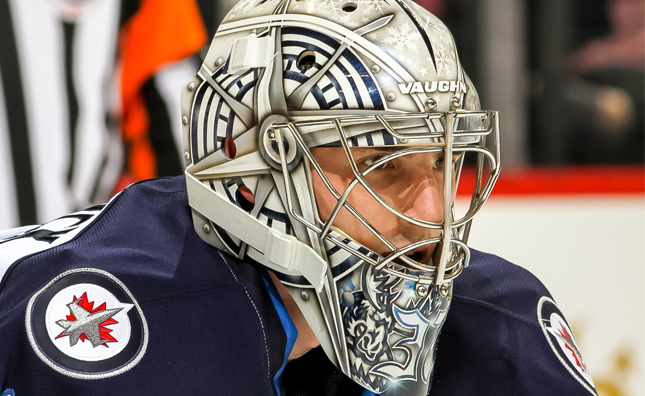 MANITOBA MOOSE @ CHICAGO WOLVES
Allstate Arena – Rosemont, IL
Sunday, November 1st, 2015
Game time – 4 p.m. CT
Moose Game 9 (1-5-1-1)
Moose Road Game 5 (1-2-0-1)
Listen: MooseHockey.com/listenlive
Watch: AHLLive.com
The Manitoba Moose will look to even up the two game series on Sunday afternoon in the rematch against the Chicago Wolves. Chicago came away with a 3-1 in their two clubs first meeting in four years on Friday night.
Game One Recap
The Moose had a good effort against the Wolves in the first match, hanging in with the central division leaders for the majority of the game. The difference was a third period marker by Yannick Veilleux who banged in a rebound during the third period to give the Wolves the lead. Pat Cannone added an empty netter for a 3-1 Wolves win. Austen Brassard was the lone goal scorer for the Moose after scoring on a breakaway early in the third. Connor Hellebuyck made 28 saves for Manitoba despite the loss.
Opposite Ends of Spectrum
Today's game features two teams at opposite ends of the rankings in terms of goals scored. The Wolves are currently leading the league in goals scored at 4.3 goals per game. The Moose currently find themselves ranked 30th in goals scored per game averaging just 1.4. The Moose have scored one goal or less in five of their eight games this season, while the Wolves have yet to score fewer than three.
Team Discipline
The Wolves also are tied for the league lead with the fewest penalty minutes. Their 68 penalty minutes is only matched by the Stockton Heat, while the Moose hit 100 penalty minutes exactly on Friday night. Manitoba is tied for 12th for the fewest penalty minutes taken.
Hellebuyck Keeps on Rolling
Connor Hellebuyck continues to be the story of Manitoba's young season. The second year netminder from Commerce, Michigan has been nothing short of spectacular. In each of his last four games he has made 25-plus saves and has earned a save percentage of .954 in that span. He is currently tied in fourth in saves (194) and ninth in save percentage (.933) in the entire AHL.
Hot Streak
Chicago Wolves forwards Pat Cannone scored the empty net insurance marker on Friday night to extend his season long point streak to six games. The Bayport, New York native has four goals and five assists for nine points in six games this season which leads his team and ties him for 16th in the league. Teammate Danny Kristo had his five game point streak snapped by the Moose on Friday night.
First of the Season
Moose forward Austen Brassard scored his first goal of the season on Friday night on a great breakaway goal. Last season he scored six goals and 18 points in 75 games in his second season in the league.