Game Preview: Moose @ Wolves – Oct. 30
By: Chris White | Published: October 30th 2015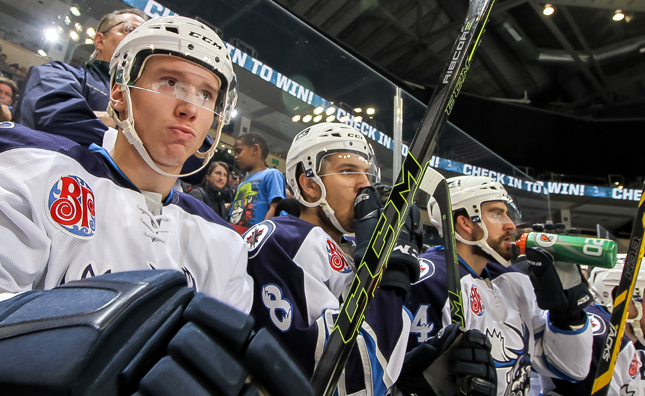 MANITOBA MOOSE @ CHICAGO WOLVES
Allstate Arena – Rosemont, IL
Friday, October 30th, 2015
Game time – 7 p.m. CT
Moose Game 8               (1-4-1-1)
Moose Road Game 4   (1-1-0-1)
Listen: MooseHockey.com/listenlive or TSN 1290
Watch: AHLLive.com
The Manitoba Moose make their first trip to meet their oldest rivals, the Chicago Wolves since March 6th, 2011. The Moose are coming off their first victory of the season after defeating the Milwaukee Admirals 3-2 last night.
Moose-Wolves History
These two franchises have a long history facing each other dating back to when both teams competed in the IHL. The Manitoba franchise has faced Chicago 89 times between the IHL and AHL which is more times than any other opponent minus the Hamilton Bulldogs. Manitoba's all-time record against Chicago is 37-41-3-8, while they have been in the AHL the Moose have a better record against their rivals at 22-15-3-4. The two teams never met in the last four years while the Moose franchise played in St. John's. Their last match was exactly 1,700 days ago.
Save Percentage Kings
The Moose have received incredible goaltending to start the season among the best in the AHL. Manitoba's duo of Connor Hellebuyck and Eric Comrie have combined for a .936 save percentage. On the Chicago side the duo of Jordan Binnington and Pheonix Copley have combined for a save percentage of .869.
Team Discipline
No team in the AHL's Central Division has fewer penalty minutes so far this season than the Chicago Wolves. Their 60 minutes in penalties are second fewest in all of the AHL to this point in the season.
Excellent Goaltending
Connor Hellebuyck has been nothing short of outstanding to start the season and red hot as of late. Hellebuyck earned his first win of the season on Thursday night with a 39 save performance. In his last three starts he has a save percentage of .959. Hellebuyck who is in his second season in the AHL led the League in saves a season ago by nearly 200 saves to the next goaltender with 1666. He is currently sixth in the AHL in saves with 166 and is 12th in save percentage with .933.
Matching Wolves
Chicago Wolves forwards Pat Cannone and Danny Kristo have matching point totals with each scoring three goals and five assists for eight points in five games this season. Cannone has at least one point in all five Wolves' games this season while Kristo is currently on a four game point streak. The two combined count for over 25% of Chicago's point totals and over 35% of their goal totals.
Patrice Cormier made his pro debut as a member of the Chicago Wolves during the 2010-11 season. Ironically he played his first pro game facing the Manitoba Moose on Nov. 30, 2010 and recorded two penalty minutes.  He played eleven games for the Wolves registering five points (2G, 3A) and 14 penalty minutes. He played his last game for the Wolves on Dec. 21, 2010 where he recorded one assist versus Milwaukee. This is his first time playing a game at the Allstate Arena since.