Moose push falls short in Grand Forks
By: Daniel Fink | Published: October 9th 2016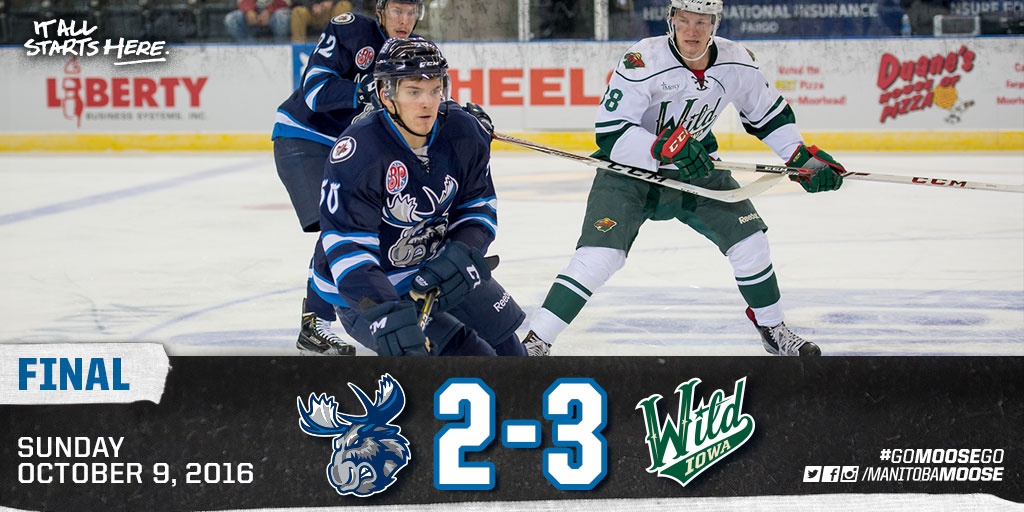 Iowa Wild (2-0-0) at Manitoba Moose (0-2-0)
Sunday, October 9, 2016 – Ralph Engelstad Arena – Grand Forks, ND
| | | | | |
| --- | --- | --- | --- | --- |
| Scoring Summary | 1 | 2 | 3 | F |
| Iowa Wild | 0 | 1 | 2 | 3 |
| Manitoba Moose | 0 | 1 | 1 | 2 |
| | | | | |
| --- | --- | --- | --- | --- |
| Shots By Period | 1 | 2 | 3 | F |
| Iowa Wild | 9 | 10 | 11 | 30 |
| Manitoba Moose | 7 | 8 | 7 | 22 |
| | | | |
| --- | --- | --- | --- |
| Special Teams | PP | PK | PIM |
| Iowa Wild | 1/2 | 4/5 | 15 |
| Manitoba Moose | 1/5 | 1/2 | 9 |
Goal Summary
| | | | | | | | |
| --- | --- | --- | --- | --- | --- | --- | --- |
| P | TIME | TEAM | GOAL | ASSIST | ASSIST | STR | SCORE |
| 2 | 7:10 | IA | Nick Seeler (1) | Zack Mitchell (1) | Jordan Schroeder (1) | ES | 1-0 IA |
| 2 | 18:27 | MB | Kale Kessy (1) | Scott Kosmachuk (1) | Jack Roslovic (2) | PP | 1-1 |
| 3 | 9:13 | IA | Sam Anas (1) | Jordan Schroeder (2) | Zach Palmquist (1) | PP | 2-1 IA |
| 3 | 11:24 | IA | Tyler Graovac (1) | Sam Anas (1) | Alex Tuch (1) | ES | 3-1 IA |
| 3 | 17:59 | MB | Jimmy Lodge (3) | Brenden Kichton (1) | Jack Roslovic (3) | EX | 3-2 IA |
Game Story
The Manitoba Moose (0-2-0) and Iowa Wild (2-0-0) closed out their North Dakota pre-season series at the Ralph Engelstad Arena in Grand Forks.  For the second game in a row, the goalies held the teams to a scoreless draw in the first period.  Manitoba goalie Jamie Phillips turned aside nine shots including a reaching toe save midway through the frame.  At the other end, Adam Vay faced down seven Moose attempts.  The period closed with some fireworks as Moose forward Kale Kessy and Wild defenceman Hunter Warner dropped the gloves and went toe-to-toe.
Keeping to a similar script as Saturday, the Wild got the scoring started.  Nick Seeler slammed home a Zack Mitchell drop pass at the 7:10 mark.  That held up until the Moose were able to use their fourth powerplay of the afternoon to bring the game to even footing.  With 1:33 remaining in the period, Kale Kessy's shot ricocheted off a Wild defender, then Vay's skate and into the goal.  The marker sent the teams to the break tied 1-1.
9:13 through the final frame, Iowa regained the lead when Sam Anas tipped a Jordan Schroeder shot past Phillips for a powerplay goal.  Anas factored in again two minutes later when his rebound found Tyler Graovac who made no mistake to give the Wild some insurance at 3-1.  With 4:24 left in the third, the Moose called Phillips to the bench.  The early gamble paid off, pulling Manitoba within a 3-2 score.  Jack Roslovic opened up Brenden Kichton with a cross-ice pass before Kichton fed it in front for Jimmy Lodge to redirect into the net with 2:01 on the clock.  That was as close as the Moose got as their late push fell short with the Wild hanging on for the 3-2 win.
Quick Hits
Jamie Phillips made his second straight start. The Moose goaltender turned away 52 of 58 shots his way this weekend.
Three Moose players picked up points in back-to-back games. Jimmy Lodge (3G), Jack Roslovic (3A) and Scott Kosmachuk (1G, 1A) factored into both games.
Lodge's three goals and Roslovic's three assists led the Moose over the weekend.
Attendance was announced at 2,022.
What's Next?
With the pre-season behind them, the Moose look toward their regular season opener against the Iowa Wild on Friday, October 14 in Des Moines.  Listen in to the action at 6:45 p.m. CT online at moosehockey.com/listenlive.  The Moose return home Tuesday, October 18 when they host the Bakersfield Condors at the MTS Centre in a 7 p.m. puck drop.  Tickets are available at moosehockey.com/tickets.
Photo Credit: Mitch Highman