Jets and Moose Gender Equality games celebrate females in sport as part of NHL's "This is Hockey"
By: Manitoba Moose Staff | Published: February 24th 2020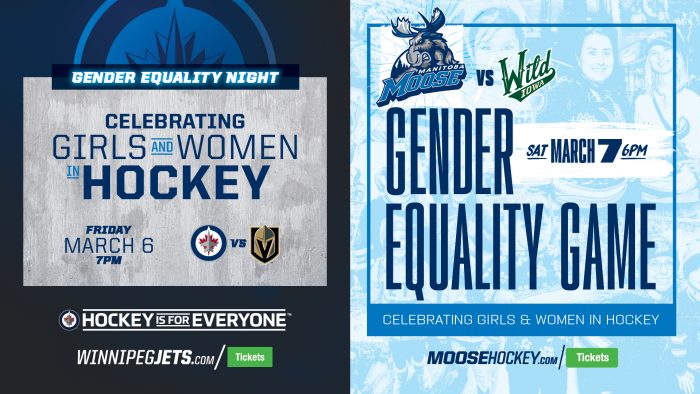 WINNIPEG, Feb. 24, 2020 – The Winnipeg Jets and the Manitoba Moose will host their first Gender Equality games on March 6 and 7 as part of the NHL's "This is Hockey" initiative, which promotes diversity and inclusiveness in hockey. The NHL's Gender Equality month recognizes women who are making an impact in hockey, on and off the ice, and coincides with International Women's Day which is celebrated annually on March 8.
The Winnipeg Jets have selected four role models from Winnipeg, or who have a local connection, who have built successful careers around the sport of hockey, in business, broadcasting, and on the ice:  Norva Riddell, Sr. Vice President, Sales with True North Sports + Entertainment; Venla Hovi, Team Finland bronze medal Olympian and current On-Ice Instructor with Jets Hockey Development; Sara Orlesky, TSN broadcaster; and Sami Jo Small, three-time Olympian and five-time world champion. They all represent excellence in their respective hockey-related fields and will participate in a ceremonial puck drop to start the Jets game on Friday, March 6 when they take on the Vegas Golden Knights.
To further celebrate the opportunity that women have in professional sports, Riddell, Hovi, Orlesky and Small will be part of a pre-game panel at the Manitoba Moose game on Saturday, March 7 when the Moose face the Iowa Wild. Moderated by TSN's Dennis Beyak, the women will share the challenges and successes of their journeys with select female sports teams and groups that will be attending the Moose Gender Equality game.
The panel will be open to media; please watch for an advisory to be sent the week of March 2.
The Moose game will feature the St. Mary's Academy Choir singing the Canadian anthem and TJ Pepper singing the American anthem. Joining them will be four Timbits ringette teams during intermission as well as ringette teams in the pre-game Big Ice program, along with Global Winnipeg's Kahla Evans as a guest announcer. Four local youth with aspirations in business, broadcasting and hockey will join Riddell, Hovi, Orlesky and Small for the ceremonial puck drop. There will also be an Upper Deck hockey card giveaway for the first 3,000 fans.
As part of the overall initiative Hovi will host Female Hockey Day at Bell MTS Iceplex on Saturday, Feb. 29. The event is a celebration of gender equality in hockey and includes on and off-ice skills and development for atom, novice, peewee, and bantam aged girls. Hovi will also speak about her experiences in hockey, when opportunities for females in hockey were more limited. The event is currently at capacity but interested participants can sign up to be on the waitlist and can visit BellMTSIceplex.ca/JHD to learn more about Jets Hockey Development female programming.
"The event is to celebrate where we are right now with female hockey and how much it's growing," said Hovi. "I hope all participants understand that they can have big goals with hockey. I don't want them to think that there are things that aren't available for them or that it's impossible."
This is Hockey promotes the need for a safe and inclusive environment for everyone in the community to both play in and enjoy.
Tickets to the Jets and Moose Gender Equality games are available at WinnipegJets.com/TICKETS and MooseHockey.com/TICKETS.
About Norva Riddell
Norva Riddell joined True North Sports + Entertainment as Vice President of Sales in the summer of 2004 after 20 years of progressive sales and leadership roles with a major Canadian brewery. Riddell continued to lead True North's sales, marketing and community operations during various phases of the organization's growth, including playing an integral role in the development and execution of the "Drive to 13,000" ticket campaign for the Winnipeg Jets' return in 2011. Riddell currently serves as Sr. Vice President of Sales for True North, the Winnipeg Jets and its subsidiaries. Riddell was recognized for her significant accomplishments in sales and marketing for the Manitoba Moose with the American Hockey League's Ken McKenzie Award in 2008. She was also a YMCA-YWCA Women of Distinction nominee in 2017.
About Venla Hovi
Venla Hovi is a two-time bronze medalist (2010 and 2018) and three-time Olympian with the Finnish National Women's Hockey team. Building on the Bachelors' Degree she earned in Finland, she continued post-secondary studies at the University of Manitoba where she was also a member of the Bisons' hockey team, leading them to their first Golden Path Trophy in 2018. She was further recognized by the University of Manitoba as the 2017-18 Bison Sports Female Athlete of the Year. Her professional hockey career has also included a Clarkson Cup victory with the Calgary Inferno of the Canadian Women's Hockey League (2018-19) as well as bronze (2008, 2009, 2017) and silver (2019) medals in the IIHF Women's World Championships. Following her retirement in 2019, Hovi turned her focus toward full-time coaching as an on-ice instructor with Jets Hockey Development, where she is committed to the development of players of all ages and skill levels, and especially to encouraging young females in the sport.
About Sara Orlesky
Sara Orlesky's sports broadcasting career began 17 years ago in Vancouver and over the years has taken her around the world covering a wide range of sporting events. In 2011 she decided to return to her hometown to become TSN's Winnipeg Bureau reporter and the host of the Jets on TSN. She can also regularly be seen covering the CFL and has worked as a sideline reporter at the last 12 Grey Cups.
About Sami Jo Small
Sami Jo Small grew up on Winnipeg's outdoor hockey rinks, playing in the boys' minor hockey system. Like her teammates, she dreamt of playing in the NHL, but she also dreamt of someday stepping onto the Olympic podium. A versatile athlete, Small pursued a degree in mechanical engineering at Stanford University on a track and field scholarship while also playing hockey on the men's team where she earned PAC-10 MVP honours. Her Olympic dreams came true in in Nagano, Japan in 1998. She is a three-time Olympian, two-time member of Olympic gold winning teams, five-time world champion and two-time World Championship MVP. Small now works as a motivational speaker and owns a hockey school that has been running in Winnipeg for 21 years. She is also a co-founder of the Canadian Women's Hockey League where after playing hockey at the elite level for 21 years, she was recently the General Manager of the Toronto Furies.