Hellebuyck selected to 2016 Toyota AHL All-Star Classic roster
By: CK | Published: January 7th 2016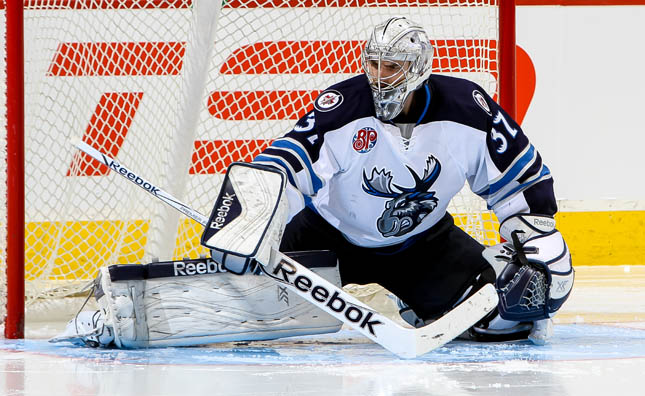 The American Hockey League announced today that goaltender Connor Hellebuyck has been selected to represent the Manitoba Moose on the Central Division Team at the 2016 Toyota AHL All-Star Classic, which takes place Jan. 31 and Feb. 1 in Syracuse, NY.
Hellebuyck, 22, has played 10 games for the Moose this season posting a 2.41 goals against average along with a .927 save percentage. He is currently playing with the NHL's Winnipeg Jets where he has played 13 games posting a 1.93 goals against average and a .935 save percentage since being recalled on Nov. 22.
This is the second time Hellebuyck has been selected to the AHL All-Star Classic having played in last year's event in Utica, NY.
Each of the AHL's four divisions will be represented by 13 players: seven forwards, four defensemen and two goaltenders. Rosters were determined by committees of AHL coaches, and all 30 AHL teams are represented by at least one All-Star.
The 2016 Toyota AHL All-Star Skills Competition on Jan. 31 (7 p.m. CT) will keep its traditional format, with All-Stars from the Eastern Conference squaring off against All-Stars from the Western Conference in seven skills events.
The 2016 Toyota AHL All-Star Challenge will take place on the evening of Feb. 1 (7 p.m. ET); instead of a traditional 60-minute game, the AHL's All-Stars will be divided into four teams, one representing each of the league's divisions (Atlantic, North, Central, Pacific). The teams will then play a round-robin tournament featuring six games of nine minutes each; the first half of each game will be played at 4-on-4, and the second half at 3-on-3. The two teams with the best records at the end of the round-robin tournament will face off for the championship, a six-minute game played at 3-on-3.