Lipon scores twice as Moose fall to Checkers
By: Chris White | Published: November 8th 2015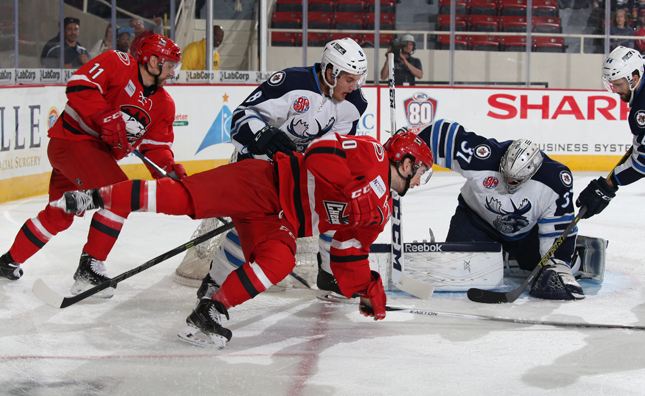 Charlotte, NC – After spoiling the party in the Charlotte Checkers home opener on Saturday night, the home team were looking for some payback.
The Checkers came out of the gate flying on Sunday afternoon catching the Moose flat footed.
This led to two early Charlotte powerplays which they were able to cash in on.
The first by Checkers captain Derek Ryan who scored on a 5-on-3 advantage followed just 62 seconds later by Joakim Nordstrom with the second Moose player still in the box.
Connor Hellebuyck did all he could to keep to keep the Moose in the game as he held the Checkers to just the two goals despite Manitoba being outshot 26-10 through two periods.
JC Lipon would reward Hellebuyck's effort in the third period as Lipon scored on the powerplay just over three minutes into the period.
With the Moose down a man, Chase De Leo was able to deflect the puck past the Checkers defenceman and fed Lipon a great cross ice pass who scored his second of the game, this time shorthanded to tie the game.
Lipon now leads the team in goal scoring with four goals after scoring three in the two games this weekend against Charlotte.
As the game approached the end of regulation the Moose got into more penalty trouble taking two consecutive penalties.
The second proved costly as Jake Chelios was able to score on the powerplay for the Checkers with just 25 seconds remaining to seal a 3-2 Charlotte victory.
Connor Hellebuyck was great again in the Moose net making 37 saves as Manitoba was outshot 40-18.
The Moose will head home to face the Chicago Wolves on Thursday, Nov. 12 and Friday, Nov. 13 at the MTS Centre.
Photo courtesy Gregg Forwerck / Charlotte Checkers