Malott, Poganski, Lundmark and Holm Return to Moose
By: Manitoba Moose Staff | Published: January 14th 2022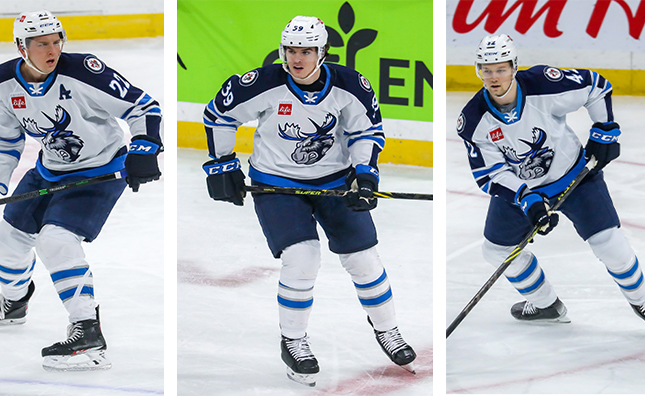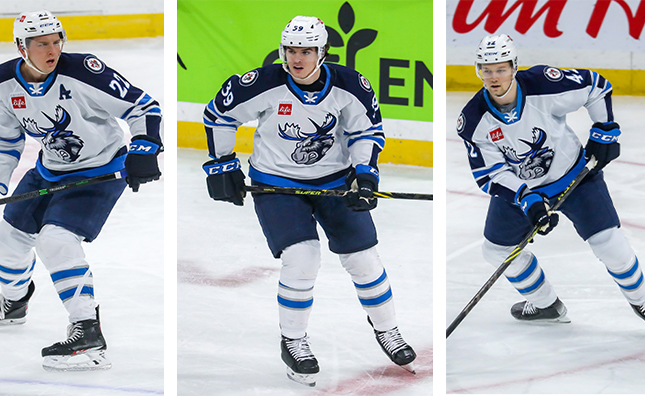 The Winnipeg Jets announced today the team reassigned forwards Jeff Malott and Austin Poganski as well as defenceman Simon Lundmark and goaltender Arvid Holm from the Taxi Squad to the Manitoba Moose.
Malott, 25, has 16 points (9G, 7A) in 30 games with the Moose this season. His nine goals lead the Moose this campaign while his seven assists are a new career-high. The Burlington, Ont. product has 36 points (23G, 13A) in 64 career AHL contests.
Poganski, 25, has recorded 20 points (7G, 13A) in 30 games with Manitoba this season. He's the first Moose skater this season to hit the 20-point plateau and currently has four points (3G, 1A) in his last three games, all of which have been Moose road wins. Poganski was drafted by the St. Louis Blues in the fourth round of the 2014 NHL Entry Draft. The forward made his Winnipeg Jets debut last night and played 11:10 while registering one hit and two shots.
Lundmark, 21, has four points (1G. 3A) in 20 games in his first season with the Moose. Prior suiting up for Manitoba in the AHL, the Stockholm, Sweden product totalled 16 points (2G, 14A) in 116 SHL contests. Lundmark was a second round pick, 51st overall, of the Jets in the 2019 NHL Draft.
Holm, 23, holds a 5-2-1 record in eight games with the Moose this season. The Ljungby, Sweden product is in the midst of his first AHL season and has recorded a 2.23 goals-against average to go along with a .900 save percentage. The netminder also registered his first AHL shutout on Dec. 5 in Belleville. Holm was a sixth round selection, 167th overall, of the Jets in the 2017 NHL Draft.
The Moose face off against the Grand Rapids Griffins tonight in a 6 p.m. CT matchup. Tune in on CJOB.com/sports, the Manitoba Moose App or AHLTV.com.