Moose Announce ECHL Affiliation with Tulsa Oilers
By: CK | Published: July 31st 2015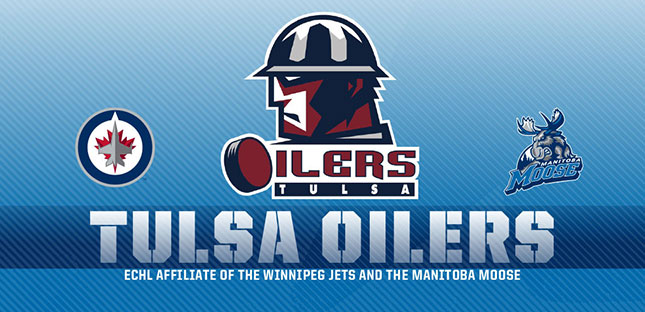 True North Sports & Entertainment and the Winnipeg Jets Hockey Club, along with their American Hockey League affiliate the Manitoba Moose, are pleased to announce a partnership with the Tulsa Oilers as their new ECHL affiliate for the upcoming 2015-16 season.
"We are pleased to embark on our new partnership with the Tulsa Oilers," said Craig Heisinger, Senior Vice President & Director of Hockey Operations/Assistant General Manager of the Winnipeg Jets. "Tulsa is an organization that shares our level of commitment to success and we look forward to working together to provide our players' opportunities to further develop themselves on and off the ice. We are particularly excited to continue our relationship with Head Coach Jason Christie who has been an integral component of some of our prospects development in the past."
The Tulsa Oilers entered the ECHL last season after 22 years in the Central Hockey League, and finished with a 37-29-3 record before being eliminated by the Allen Americans in the first round of the Kelly Cup playoffs. The Oilers, without an affiliate since partnering with the Colorado Avalanche (NHL) and Lake Erie Monsters (AHL) in 2010-11, already have a history with the Jets. From 1979-1982, Tulsa served as Winnipeg's primary affiliate and during that time, more than 20 players were called up from the Oilers to the Jets.
Jason Christie, who was introduced as the new Head Coach of the Oilers on Thursday, has strong ties to the Jets organization and was instrumental in forging the relationship between the three franchises. Over the 1996-97 and 1997-98 seasons, Christie played 88 games with Manitoba. He was an Assistant Coach with the Chicago Wolves from 2008 to 2010 under current Jets' General Manager Kevin Cheveldayoff and most recently, Christie served as Head Coach of the Ontario Reign, the Jets' ECHL affiliate since the 2013-14 campaign.
"We are thrilled to enter into this partnership with the Jets and the Moose," said Taylor Hall, General Manager of the Oilers. "Both teams are first-class organizations that share our commitment to winning and not only is this an exciting day for our fans, but it is also an important day for our players who want to continue their development and succeed at the next level."