Moose battle back but fall in OT
By: CK | Published: January 16th 2016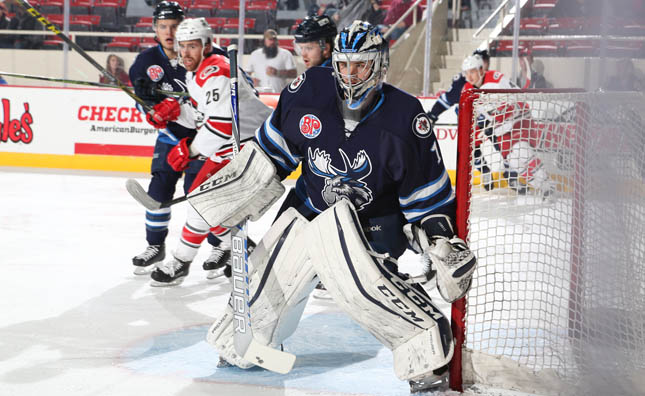 It was a valiant effort for the Moose on Saturday evening as they met the Charlotte Checkers at the Bojangles Coliseum in a game that would end with controversy for Manitoba.
After finding themselves trailing 2-0 on goals from Charlotte's Brody Sutter and Brendan Woods, the Moose showed great resiliency to work harder to get back in the game.
Just minutes later it was team captain John Albert who scored off a great pass from Patrice Cormier who intercepted a pass from the Charlotte goaltender behind the net to pull the Moose within one.
Manitoba continued to battle and late in the third they broke through.
Paul Postma dangled in the offensive zone past two Charlotte players to find himself behind the net, he then found an open Austen Brassard out front who scored from the slot to tie the game with just 5:34 remaining.
For Postma, he earned a point (1G, 2A) for the third consecutive game since joining the Moose on a conditioning stint from the Winnipeg Jets earlier in the week.
In overtime it was Ethan Werek who put the puck past a diving Eric Comrie. The puck appeared to hit the crossbar and after further review and despite protests from the Moose players and coaches it was ruled to be a goal, giving Charlotte a 3-2 overtime victory.
Daniel Altshuller earned the win in net for the Checkers as the Moose outshot Charlotte 29-28. Eric Comrie made his 15th consecutive start in net for the Moose and was excellent making 25 saves.
Charlotte now leads the season series 2-1-0-0 over the Moose. They will face each other five more times this season, four of which will be played at the MTS Centre.
The Moose will get a chance to even the season series against the Checkers in a rematch Sunday afternoon at 4:30 p.m. CT at the Bonjangles Coliseum.