Moose beat Wild in preseason opener
By: CK | Published: October 2nd 2015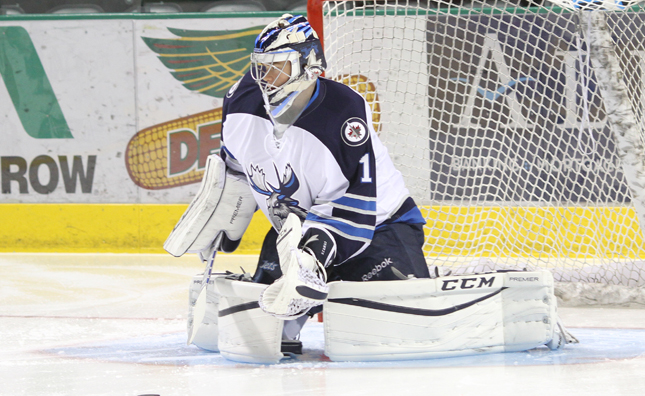 After a tentative start in the first period for both the Moose and the Iowa Wild in each teams pre-season opener, Manitoba jumped out to a 1-0 lead on a goal from Scott Kosmachuk just :21 seconds into the second period.
Chase De Leo and Aaron Harstad registered their first points of the pre-season on the goal.
The pace continued to speed up in the second period with both the Wild and Moose trading chances.
The Moose capitalized early again in the third with a goal at 2:19 by Axel Blomqvist and added another by Brock Trotter midway through the third to secure a 3-0 win.
Moose goaltender Eric Comrie was impressive in net stopping all 27 shots he faced for a shutout while Chase De Leo finished with two assists.
The Moose and Wild will play a rematch Saturday night at the Scheels Arena in Fargo, ND.
Goals     1st           2nd          3rd         Total
Wild       0              0              0              0
Moose    0              1              2              3
Shots     1st           2nd          3rd         Total
Wild       5              14           8              27
Moose    5              9           6              20
Scoring Summary
First Period
No scoring
Second Period
0:23 Scott Kosmachuk (De Leo, Harstad)
Third Period
2:19 Axel Blomqvist (Walker, Kostalek)
7:07 Brock Trotter (De Leo, Melchiori) PP