Moose can't find bounces versus Condors
By: Chris White | Published: November 20th 2015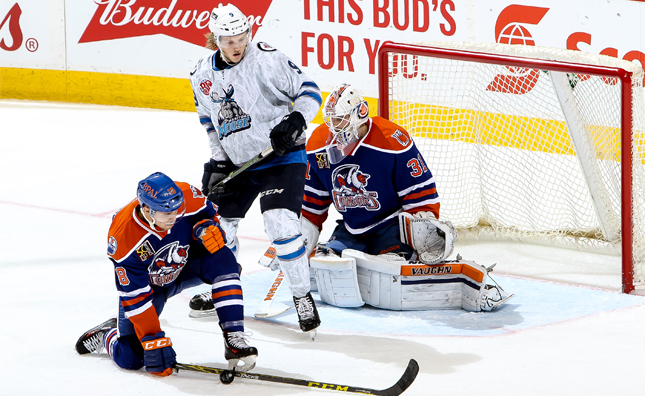 It wasn't for lack of effort, or chances but a few bounces against a hot goaltender would have helped the Manitoba Moose on Friday night as they hosted the Bakersfield Condors in the two franchises first ever meeting at the MTS Centre.
The Moose got off to a slow start which led to an early turnover to Bakersfield's Mitch Moroz who scored just 2:24 into the first period.
After the Moose got past their early slump they put their own pressure on with defenseman Brenden Kichton scoring his third goal of the season midway through the first.
Kichton's goal was his third of the season and he leads all Moose players with nine points in 14 games this season.
The two teams would battle hard the rest of the way but it was Condors centre Alexis Loiseau who would break the tie midway through the third period deflecting a point shot past Connor Hellebuyck.
The goal would go on to be the game winner as the Condors defeated the Moose 2-1. The Condors have now won five out of six games and their last three contests.
Bakersfield's Laurent Brossoit was named the first star as he made 32 saves for the Condors.
Connor Hellebuyck was solid in the Moose net again allowing just the two goals on 30 shots.
Nic Petan and Brennan Serville made their AHL debuts for the Moose. Petan recorded his first career point with an assist on Manitoba's goal.
The Moose wore "Wilderness Camo" jerseys on Friday night with six of the game worn/issued jerseys being auctioned off at the game.
The remaining game worn/issued jerseys will be available for an online auction which can be found via the True North eBay page: truenorth_eshop starting on Sunday, November 22nd at 4pm and running until Sunday, November 29th at 6pm.
The Moose and Condors will face-off in a rematch on Sunday afternoon at 2 p.m. at the MTS Centre.