Moose can't rally against Wild
By: Chris White | Published: March 9th 2016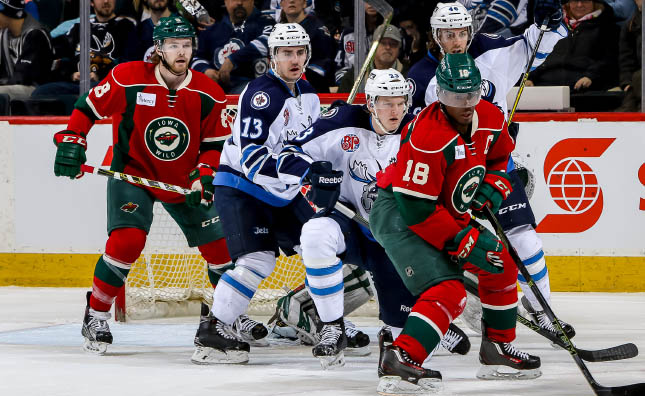 The game slipped away from Manitoba on Wednesday night at the MTS Centre against the Iowa Wild largely due to the play of a pair of former Moose players.
Maxime Fortunus recorded a goal and two assists while another former Moose, Jordan Schroeder added a goal to help give the Wild a 4-2 victory.
After trailing 4-0 after two periods, the Moose showed some life in the third with goals from Patrice Cormier and Nic Petan but it wasn't enough in the end for Manitoba.
Cormier scored his 13th goal of the season and is now tied for third on the team in goals.
He has four goals in six games against the Wild this season, the most on the team. The Moncton, NB native has now scored in back-to-back games and has four goals and two assists for six points in his last eight games.
Petan's third period goal gives him nine on the season. He is now tied with Chase De Leo for the team lead in points with 32. They are both tied for 19th in AHL rookie scoring.
Brant Harris (Florida-ECHL), Darik Angeli (Manchester-ECHL), and Dan DeSalvo (Tulsa-ECHL) each made their Moose debuts after signing professional tryout agreements earlier in the day.
DeSalvo recorded his first career AHL point in his first career AHL game with an assist on the goal by Patrice Cormier.
Connor Hellebuyck allowed four goals on 18 shots before he was relieved by Eric Comrie who stopped all 23 shots he faced. Comrie continues to lead all AHL goaltenders in saves with 1,173.
The Moose and Wild will play twice more this season with both games being played in Iowa on Mar. 30 and Apr. 1.
Manitoba was hit with bad news following the game, as it was announced that Thomas Raffl will miss the remainder of the season with a lower body injury.
The Moose will next hit the road for a two game series against the Grand Rapids Griffins starting on Friday, Mar. 11 at the Van Andel Arena at 6:00 p.m. CT.