Moose come up short to Monsters
By: Chris White | Published: October 22nd 2015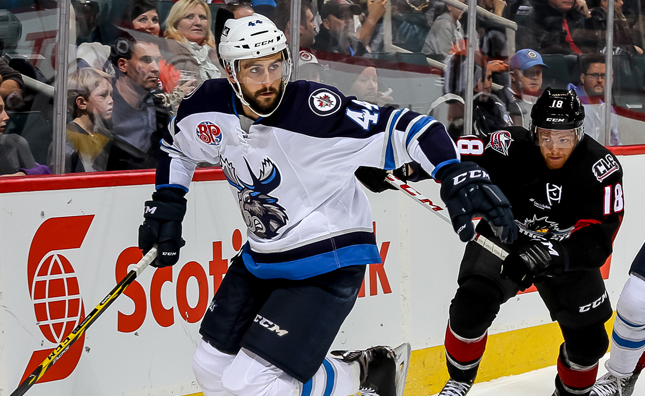 It was a game of hard work for the Manitoba Moose with a result that wasn't quite enough on Thursday night against the Lake Erie Monsters at the MTS Centre.
Joel Armia had a beautiful goal, his first of the season, on a powerplay in the first period to open the scoring with an assist going to defenceman Brenden Kichton.
Kichton now has four points in his first five games which leads the Moose and puts him seventh among AHL defenceman in scoring.
Two quick goals by the Monsters in the second period sunk the Moose.
Lukas Sedlak scored after deflecting the puck off the leg of Moose forward Chase De Leo, which was followed just 1:28 later by a Michael Chaput goal which gave Lake Erie the lead.
Chaput scored his second of the game into an empty Moose net in the final moments of the third period to give the Monsters a 3-1 victory.
Goaltender Connor Hellebuyck had another strong game making 33 saves and currently has the second most saves of any AHL netminder.
The Moose will be back on the ice tomorrow for practice as they prepare for a rematch Saturday night against the Monsters at the MTS Centre. Puck drop is scheduled for 7 p.m. CT.
Post Game Reaction
Head Coach Keith McCambridge
John Albert
Julian Melchiori
Andrew MacWilliam