Moose earn first victory of season
By: Chris White | Published: October 29th 2015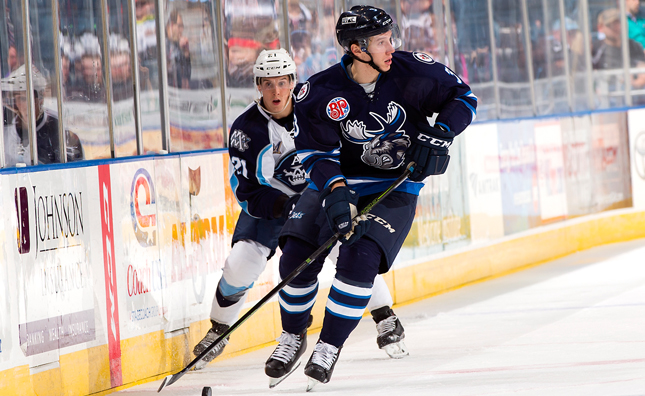 Milwaukee, WI – If you have bad luck you better create your own luck.
That was exactly what the Moose did Thursday night as they looked for their first win of the season at the BMO Bradley Harris Center in Milwaukee against the Admirals. The Moose had worked hard in each of their first six games of the season but were unable to get into the win column.
That changed Thursday night, thanks to a huge effort.
The Moose came out flying, scoring just 23 seconds into the game after a backhand pass from John Albert found Matt Halischuk out front who put it past Milwaukee goalie Marek Mazanec.
Just over six minutes later the Moose were able to get their second of the game on a goal from Joel Armia who made a great deflection on a pass from Chase De Leo on the powerplay.
The Admirals were able to battle back before the end of the first period on goals from Viktor Arvidsson and Stevie Moses, but the Moose showed their resilience.
The Moose had 22 shots in the second period alone, including a rebound chance that was buried by defenceman Brenden Kichton who jumped up in the play to give the Manitoba the lead. Kichton now has two multi-point games this season and leads the team in scoring with six points in seven games.
The Moose were able to hold off the late pressure put on by the Admirals in the third period by the to claim a 3-2 victory.
Connor Hellebuyck was incredible in the Moose net yet again making 39 saves. Over his last three games he has a save percentage of .959.
The Moose will continue their road trip tomorrow night as they meet another long-time rival in the Chicago Wolves at the Allstate Arena. Puck drop is scheduled for 7 p.m. CT.
Photo courtesy of Jeff Hanisch/Milwaukee Admirals