Moose extend win streak to three
By: Chris White | Published: February 19th 2016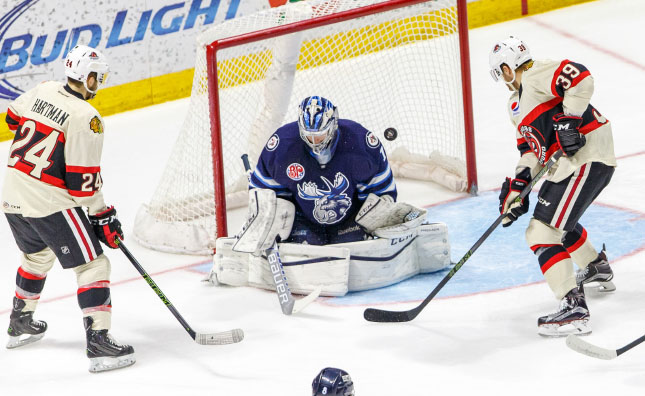 It was another solid road effort for the Manitoba Moose on Friday night as they played the rematch against the Rockford IceHogs at the BMO Harris Bank Center.
Scott Kosmachuk scored his 11th and Thomas Raffl scored his third of the season to give the Moose a 2-0 lead after 40 minutes.
After Chris DeSousa scored midway through the period to pull Rockford within one it was goaltender Eric Comrie who once again stood tall in the Moose net. Manitoba's AHL All-Star continued to show why he was just that by keeping the Moose ahead the rest of the way.
JC Lipon added an empty net goal with just under three minutes to play. The goal was Lipon's third shorthanded goal of the season and he is now tied for fifth in franchise history for shorthanded goals in a season.
Teammate John Albert has the all-time franchise record scoring six shorthanded goals in one year back in the 2013-14 season.
Cameron Schilling added a goal for Rockford on the powerplay with just 21.3 seconds remaining but it was too little too late for the IceHogs, as the Moose picked up the two-game series sweep with a 3-2 victory.
Comrie was named the game's first star after making 37 saves. He continues to lead the entire AHL in saves with 1,092 on the season.
Lipon continues to be red hot as he extended his point streak to four games. He has three goals and eight assists for 11 points in his last six games. He is second on the team in scoring with 11 goals, 17 assists for 28 points.
The Moose also continue to be strong on special teams as of late.
Manitoba scored a powerplay goal for the fifth straight game, which is a season high. In their last five games the Moose powerplay has gone 6-for-14, scoring at a 42.8% clip.
Rockford's powerplay goal in the final moments of the game snapped a Manitoba streak of 21 straight successful penalty kills. In their last five games the Moose penalty kill has gone 21-for-22, a 95.5% rate.
Most importantly, the win gave the Moose a season long three game win streak.
The Moose will continue their busy five game road trip Saturday night when they face the Milwaukee Admirals at 7 p.m. CT.