Moose fall 3-1 to Chicago in tight battle
By: Chris White | Published: October 30th 2015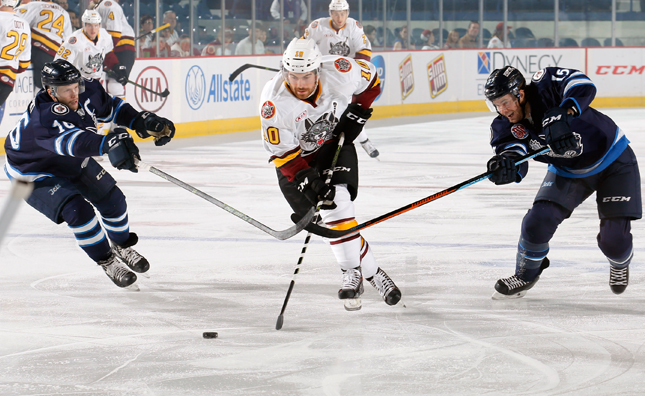 Rosemont, IL – The Manitoba Moose renewed their rivalry with the Chicago Wolves at the Allstate Arena in Rosemont, IL on Friday night.
It was the first time the two teams clashed in exactly 1,700 days. Manitoba didn't receive a warm welcome back from the Chicago crowd but the Moose did not back down.
The young Moose squad held their own against the more veteran Wolves squad throughout the game.
Zach O'Brien opened the scoring for the Wolves on the powerplay after a nifty set play left the Moose exposed in the second period.
The Moose continued to press the Wolves and after Chase De Leo forced a turnover early in the third period, the puck wound up on the stick of Ryan Olsen who sent Austen Brassard in alone.
Brassard would make a great move on Wolves goaltender Jordan Binnington to even the game 1-1. The goal was Brassard's first of the season.
The teams would trade chances in the game's final frame until Wolves forward Yannick Vellieux jammed in a rebound out front to regain the Chicago lead.
Pat Cannone would add an empty net goal to seal a Wolves 3-1 win.
Connor Hellebuyck continued his red hot play in the Moose net making 28 saves. Hellebuyck has made 25+ saves in each of his last four games. His save percentage is .954 in that span.
The Moose will get another shot against the Chicago Wolves when they face them in the rematch on Sunday afternoon at the Allstate Arena at 4 p.m. CT