Moose fall to Texas to wrap up road trip
By: Chris White | Published: March 5th 2016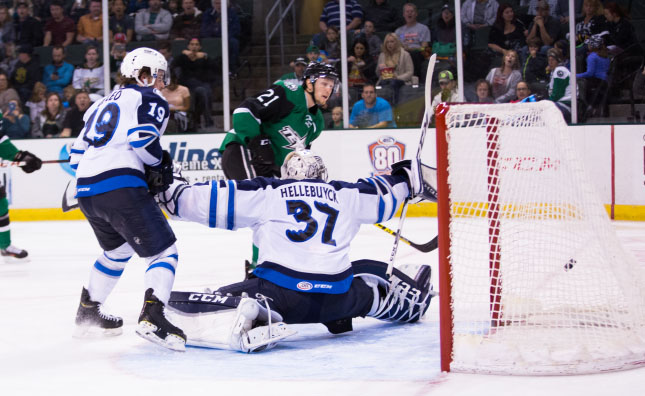 Playing on back-to-back nights for the 17th time this season, the Moose ran into the team with the most goals in the AHL this season, the Texas Stars on Saturday night.
The Stars used their home ice effectively and were able to get plenty of bounces that led to a 6-1 Texas victory.
Gemel Smith led the way for the Stars with two goals and an assist for a three point night. Jason Dickinson, Cole Ully, Mattias Backman and Cory Kane had the other goals for Texas.
The lone Moose goal was scored by Scott Kosmachuk who had his second goal in as many nights, both on the powerplay.
Kosmachuk matched his AHL career high in goals (14) which he scored in his rookie season last year with St. John's. His eight goals on the road this year are the most by any Moose player.
The Moose powerplay was effective yet again as it scored for the fifth straight game. In their last 12 games Manitoba's powerplay has gone 11-for-41 for a success rate of 26.8%.
Connor Hellebuyck took the loss in net allowing six goals on 36 shots.
The Moose gave up more than three goals for the first time since last playing Texas on Feb. 10 (7-6 Stars win), a stretch of nine games.
This was the first time the Moose have lost a game by more than one goal since Jan. 30, a stretch of 14 games.
The Moose now have a 0-2-0-1 record against the Stars this season. The two teams will play once more in the regular season finale on Apr. 16 in Texas.
The Moose will return home for a two game series against the Iowa Wild which begins on Monday, Mar. 7 against the Iowa Wild. Puck drop is scheduled for 7 p.m. at the MTS Centre.