Moose fall to Wild in second pre-season match
By: CK | Published: October 3rd 2015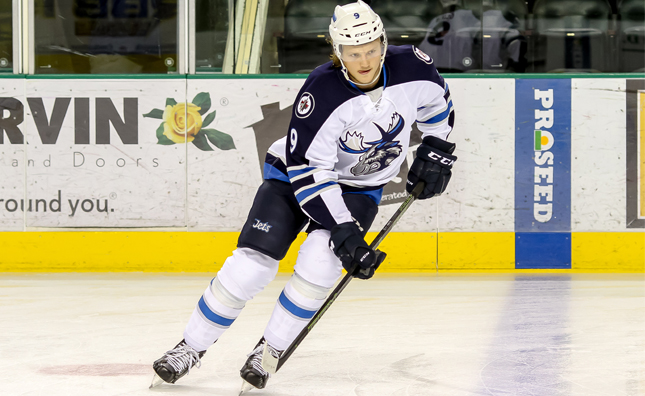 The second game of the Moose versus Iowa Wild pre-season series saw the play and intensity jump up a notch as the battle to earn a spot on each team grew.
Ryan Olsen opened the scoring, banging in a puck out front of Wild goaltender Leland Irving with just over two minutes remaining in the first period. Unfortunately for the Moose it was the only puck they would get past Irving.
Iowa forward Zac Dalpe was the story for the visitors scoring both goals for the Wild. He had the game winner at 12:59 of the third period on a shorthanded goal after a broken stick of Moose defenceman Aaron Harstad sent Dalpe in alone. Dalpe beat Moose goaltender Connor Hellebuyck on a perfect shot to give his team a 2-1 victory.
Despite the loss, Connor Hellebuyck was solid in net making 31 saves. Axel Blomqvist registered a point for the second straight game after scoring a goal Friday night.
This was the final game of the pre-season, the Moose open the regular season Friday, Oct. 9 when they travel to face the Toronto Marlies at 6 p.m. CT.
Goals     1st           2nd          3rd         Total
Wild       0              1              1              2
Moose    1              0              0             1
Shots     1st           2nd          3rd         Total
Wild       18           7              8              33
Moose    8            9             11             28
Scoring Summary
First Period
17:41 MTB Ryan Olsen (Brassard, Blomqvist)
Second Period
17:36 IA Zac Dalpe (Mitchell)
Third Period
12:59 IA Zac Dalpe (2) (Brassart) SH