Moose get shutout by Marlies
By: Chris White | Published: January 8th 2016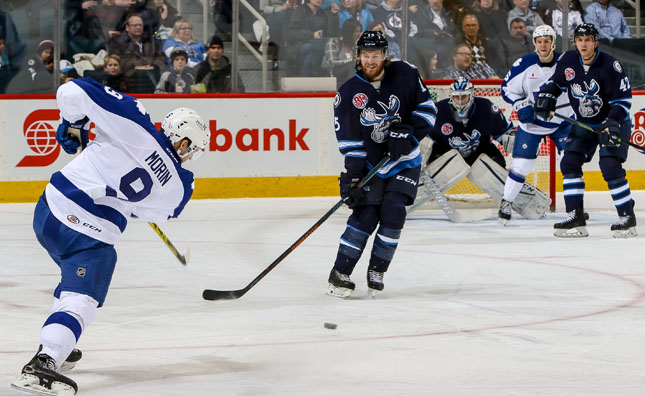 After a strong first period, momentum slowly turned to the visiting team the rest of the way as the Toronto Marlies shutout the Manitoba Moose 3-0 on Friday night at the MTS Centre.
The Moose had a strong start outshooting the Marlies 13-5 through the first period, as they looked to get their first victory over currently the top team in the AHL's standings.
Toronto slowly chipped away at the Moose and opened the scoring on a powerplay goal by Josh Leivo with just four minutes remaining in the second period.
Defenceman Stuart Percy scored with under three minutes remaining in the game and Ryan Rupert put in the final nail, scoring on an empty Moose net in the final minutes.
Manitoba had some good chances but were unable to beat Marlies goaltender Rob Madore who made 26 saves in the contest for his first shutout of the season. In two games against the Moose this season, Madore has a 2-0-0 record with a 0.50 goals against average and a .980 save percentage.
Eric Comrie made his 11th straight start and made 23 saves to keep the Moose in the game all the way. He was named the game's third star.
Manitoba will play the rematch against Toronto on Saturday night at the MTS Centre. Puck drop is scheduled for 7 p.m.
The Moose will be celebrating Polar Bear Jersey Night presented by Assiniboine Park Zoo.
For one night only the Moose will wear polar bear themed jerseys which will be auctioned off with proceeds going towards Assiniboine Park Zoo's Polar Rescue Team.
For more information on Polar Bear Jersey Night click here