Moose partner with TSN 1290 for radio and online broadcasts
By: CK | Published: October 1st 2015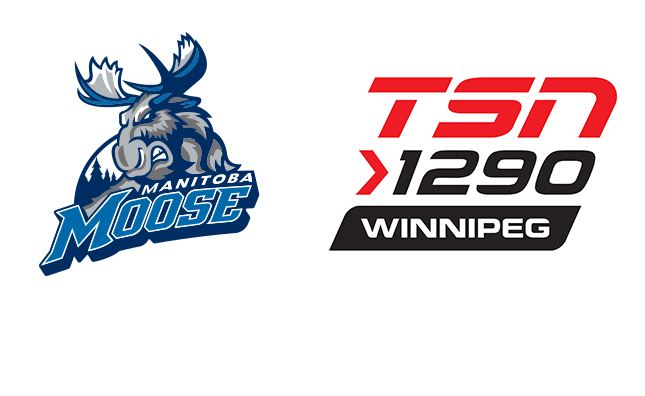 The Manitoba Moose Hockey Club, in conjunction with TSN Radio 1290 in Winnipeg, announced today a partnership that will see TSN 1290 become the home of Manitoba Moose radio broadcasts for the 2015-16 season.
TSN 1290 will broadcast a minimum of 39 regular season Moose games this upcoming season. Every regular season and playoff Moose game will also be available to fans online via MooseHockey.com.
Broadcasts will be led by new Moose play-by-play announcer Mitch Peacock. A fixture in the Winnipeg sports media scene, Peacock will provide in-depth analysis, features and interviews for all 76 regular season games plus playoffs. Peacock brings extensive experience to the position, having called hockey games in the ECHL, WHL, BCHL, and AJHL. He also served as the host of Calgary Flames radio broadcasts for three seasons and spent four years as a rinkside reporter for Hockey Night in Canada.
In addition to being a sports anchor on CBC Winnipeg for the past six years, Peacock has also provided play-by-play coverage of the Olympics and Pan Am Games, and has hosted the FIFA World Cup as well as network coverage of Major League Soccer.
"The combination of working with TSN 1290 and the high quality production they will bring to both the radio and online platforms will be a huge benefit for our passionate fan base," said VP Operations for the Manitoba Moose, Dan Hursh. "The addition of Mitch Peacock as the voice of the Moose brings a wealth of experience that will provide Moose fans with first-rate coverage of our team and our players."
"We are very excited to welcome the Manitoba Moose to TSN 1290, Winnipeg's home of hockey," said Chris Brooke, Program Director, TSN 1290. "With live games on TSN 1290, hockey fans will be able to keep close ties on the Jets' highly-touted young prospects as the Manitoba Moose and the AHL return for their first season back at the MTS Centre."
The Moose open their season on Friday, Oct. 9 when they visit the Toronto Marlies.
CLICK HERE FOR A FULL BREAKDOWN OF RADIO AND ONLINE COVERAGE FOR MANITOBA MOOSE GAMES