Moose Recap: Manitoba 1 at Milwaukee 2
By: Anthony Fusco | Published: May 6th 2023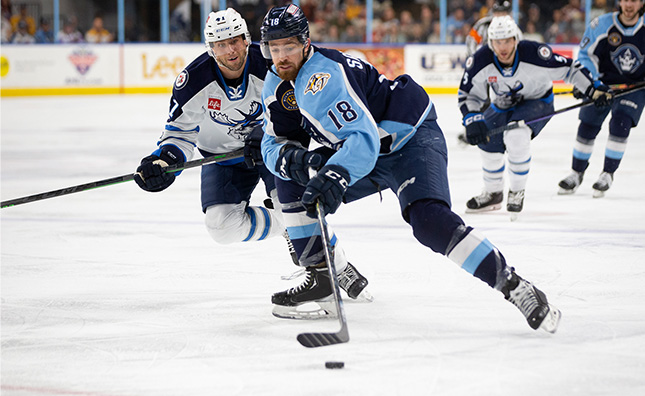 Linked Up
Quick Hits
Jansen Harkins scored the lone goal for the Moose in the loss
Spencer Stastney notched the game-winning goal with 27 seconds left
The Admirals won the series three games to two
Game Story
The Manitoba Moose (2-3) rematched with the Milwaukee Admirals (3-2) on Saturday evening at UW-Milwaukee Panther Arena for Game 5 of the Central Division Semifinals.
Neither side was able to find the back of the net through the opening 20 minutes. Both clubs were granted a chance on the power play, but were unable to break through. Both goaltenders were up to task, with Oskari Salminen ending the frame with 12 stops, while Yaroslav Askarov compiled eight saves of his own.
Milwaukee opened the scoring past the halfway point of the second stanza. A Moose pinch allowed Egor Afanasyev to send Mark Jankowski in on a breakaway. The forward deked past Salminen for his first of the series. The Admirals goal was the lone marker of the frame. Manitoba was given a pair of opportunities on the power play, including a brief five-on-three, but was unable to find twine. The Moose were down 1-0 after 40 minutes and were outshot 13-7.
The Moose were granted chances on the power play in the third, but were unable to find proper shooting lanes. With time ticking down, Salminen was called to the Moose bench in favour of the extra attacker. Manitoba gained possession and Declan Chisholm sauced the puck to Jansen Harkins, who fired a bullet past Askarov to tie the contest 1-1. Milwaukee struck back with 27 seconds left, as a collision between Moose skaters allowed the Admirals to walk in with an odd-man rush before Spencer Statsney sent the puck past Salminen off the backdoor pass. The Moose were unable to manufacture a second equalizer and the horn sounded to draw the series to a close with Milwaukee taking Game 5 by a score of 2-1. Salminen was hit with the loss and ended with 31 stops, while Askarov notched the win with 19 saves of his own.
Quotable
Moose Defenceman Jimmy Oligny (Click for full interview)
"Seems like we've seen this before, it's getting old. I already have no words, it's just really disappointing. When you just tie a game, you can't allow a goal right after. It doesn't matter when, even if it was in the second period. You just can't allow a goal right after you scored. I think they were tight games that could have gone either way."
Statbook
Jansen Harkins had seven points (4G, 3A) in the series
Harkins ended the set tied for the series lead in points with Milwaukee's Jordan Gross
Leon Gawanke (1A) notched his first assist of the post-season