Moose Recap: Manitoba 2 vs. Laval 5
By: Anthony Fusco | Published: November 13th 2023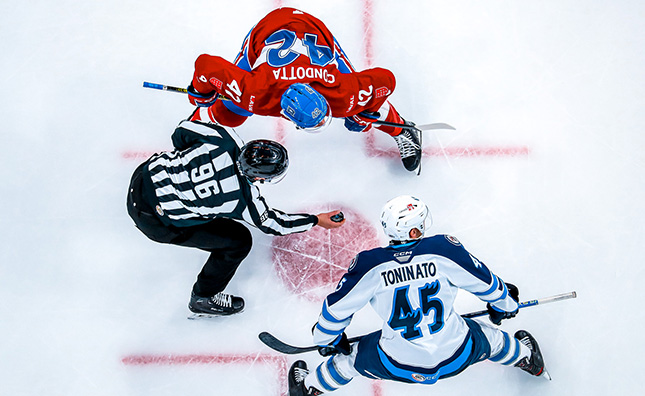 Linked Up
Quick Hits
Wyatt Bongiovanni and Ashton Sautner scored for the Moose in the loss
Sean Farrell posted three points (1G, 2A) in the win
Xavier Simoneau scored twice in the Laval victory
Game Story
The Manitoba Moose (4-6-0-0) rematched with the Laval Rocket (4-7-1-0) on Monday morning at Canada Life Centre for the first of two Project 11 School Day games this season. Manitoba was coming off a 6-2 defeat against Laval the previous afternoon.
Laval opened the scoring 1:23 into the contest. Philippe Maillet walked in and fired a shot on goal. Xavier Simoneau weaved through traffic and was able to golf the rebound past Thomas Milic. Laval tacked on a second tally with 2:38 to go in the frame. Sean Farrell knocked the puck down and found Olivier Galipeau with the pass. The defender used the extra space to walk in and beat a screened Milic. Manitoba trailed 2-0 after 20 minutes of play. Shots on goal stood even at 10 apiece.
Manitoba cut the Laval lead in half with a power play goal halfway through the stanza. A Chaz Lucius shot tumbled to Daniel Torgersson. The forward found it through the crowd and sent the feed to Wyatt Bongiovanni who fired it past a diving Strauss Mann. Laval restored its two-goal edge with a late goal knocked to the back of the net by Joshua Roy. Manitoba was down 3-1 and outshot by a count of 11-5 in the middle period.
Laval converted a fourth goal 1:44 into the third frame. Mitchell Stephens sprinted down the ice on an odd-man rush and sent the puck across to Simoneau, who found the upper portion of the net for his second tally of the match. The Moose pulled back within two a couple minutes later. Dominic Toninato won an offensive zone draw. The puck slid back to the point and was one-timed past a screened Mann by Ashton Sautner. The Moose attempted to press, but the Rocket iced the contest with a goal from Sean Farrell. Milic was tagged with the loss and ended the day with 26 saves, while Mann picked up the win and was credited with 26 saves of his own.
Quotable
Moose Forward Wyatt Bongiovanni (Click for full interview)
"It's such a funny game. A lot of it comes down to details. Tiny little details. Staying defence side on the puck in certain areas. Supporting the puck, communication, all these things go into playing a solid team game. It's a full effort, it takes everybody."
Statbook
Daniel Torgersson has two points (1G, 1A) his past three games
Chaz Lucius has two points (2A) his past two games played
What's Next?
The Moose head on the road to tangle with the Belleville Senators at CAA Arena on Friday, Nov. 17. Puck drop is scheduled for 6:00 p.m. CT. You can catch the game on CJOB.com/sports the Winnipeg Jets App or AHLTV.
Tickets to all upcoming Moose home games are available at MooseHockey.com/TICKETS.