Moose Recap: Manitoba 1 vs. Rockford 4
By: Anthony Fusco | Published: November 5th 2023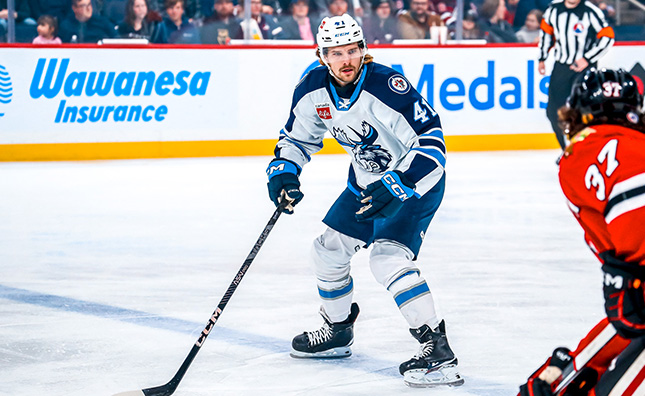 Linked Up
Quick Hits
Daniel Torgersson tallied the lone Manitoba goal
Joey Anderson (1G, 1A) and Brett Seney (1G, 1A) both notched multi-point games for Rockford
Drew Commesso posted 26 saves in the IceHogs victory
Game Story
The Manitoba Moose (4-4-0-0) rematched with the Rockford IceHogs (5-2-0-0) on Sunday afternoon at Canada Life Centre. Manitoba was coming off a 4-3 defeat yesterday afternoon against Rockford.
Rockford opened the scoring 2:06 into the contest. Andrew Perrott walked in from the blue line and put a shot on goal. The puck tipped off a Moose stick in front and redirected past Oskari Salminen. The IceHogs power play pushed the IceHogs lead to 2-0 late in the period. Brett Seney hunted down a loose puck in the crease and dove to knock it home. Manitoba trailed 2-0 after 20 minutes of play and was outshot 10-8.
The Moose cut into the lead 3:08 into the middle stanza. Kristian Reichel stuffed the puck on net and was thwarted by goaltender Drew Commesso. Daniel Torgersson located the rebound and popped it past the IceHogs netminder. Rockford restored the two-goal lead nearly halfway through the second. With the IceHogs on the power play, Seney sent a pass from the behind the net to Joey Anderson, who put it up and under the bar. The Moose headed into the second intermission down by a count of 3-1.
Rockford added some insurance 2:27 into the third. Antti Saarela forced a turnover and lifted a shot from distance that found its way past a screened Salminen. With the Moose facing a three-goal deficit, the decision was made to call Salminen to the bench with five minutes left in favour of the extra attacker. With the extra skater on the ice, the Moose were able to muster some shots and opportunities, but Commesso and the IceHogs held the line for a 4-1 final score. Salminen was hit with the loss on the back of 17 stops, while Commesso picked up the road win and made 26 saves of his own.
Quotable
Moose Defenceman Simon Lundmark (Click for full interview)
"Of course we don't want to lose back-to-back games. I feel like we played okay, but it was hard to get the puck into the net. I think we had a decent amount of shots, but we just couldn't execute there."
Statbook
Axel Jonsson-Fjallby has tallied three points (2G, 1A) his past three games
Daniel Torgersson and Kristian Reichel both tallied their first points of the season
What's Next?
The Moose clash with the Laval Rocket at Canada Life Centre on Sunday, Nov. 12. Puck drop is scheduled for 2 p.m. CT. Tickets to all upcoming Moose home games are available at MooseHockey.com/TICKETS.
You can catch all Moose games on CJOB.com/sports the Winnipeg Jets App or AHLTV.