Moose shutout Checkers in opener
By: Chris White | Published: November 7th 2015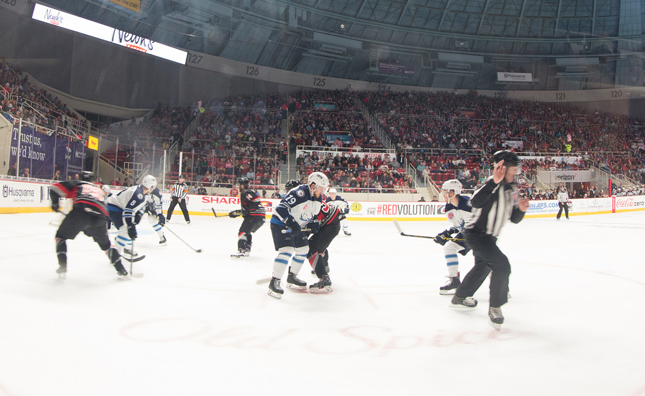 Charlotte, NC – It was a great team effort that got the job done for the Moose on Saturday night at the Bojangles' Coliseum in North Carolina where Manitoba faced the Charlotte Checkers for the first time in team history.
The game was Charlotte's home opener as the Checkers had the difficult task of playing their first ten games on the road as renovations were made their home arena.
The Moose were able to spoil the opening night celebration for the Checkers by pulling off a gutsy 3-0 win.
Manitoba did so while facing their own share of adversity.
The Moose were shorthanded due to injuries and played without team captain John Albert (week to week), Jay Harrison (week to week), Matt Fraser (week to week), Thomas Raffl (week to week) and Jan Kostalek (day to day).
The young Moose squad were led by third year forward Austen Brassard who scored his second of the season on a scramble out front to open the scoring in the second period. It was then Scott Kosmachuk who scored on a breakaway after blocking a shot in his own end putting the Checkers on the ropes.
JC Lipon sealed the deal by scoring shorthanded on an empty Checkers net with less than two minutes remaining to give the Moose their second win of the season.
Connor Hellebuyck continued his spectacular play stopping all 30 shots he faced. He not only earned his second win but his first shutout of the season and was named the game's first star.
Hellebuyck has made 25-plus saves in each of his last five games. He is currently tied for eighth in the AHL in goals against average (1.99) and fourth in save percentage (.941). Teammate Eric Comrie is currently third with a .942 save percentage.
Former Moose goaltender Drew MacIntyre took the loss for Charlotte making 18 saves.
The Moose and Checkers will have a quick turnaround as they will play the rematch Sunday afternoon at 12 p.m. CT at the Bojangles' Coliseum.
Photo courtesy Charlotte Checkers.