Moose top Admirals
By: Chris White | Published: December 1st 2015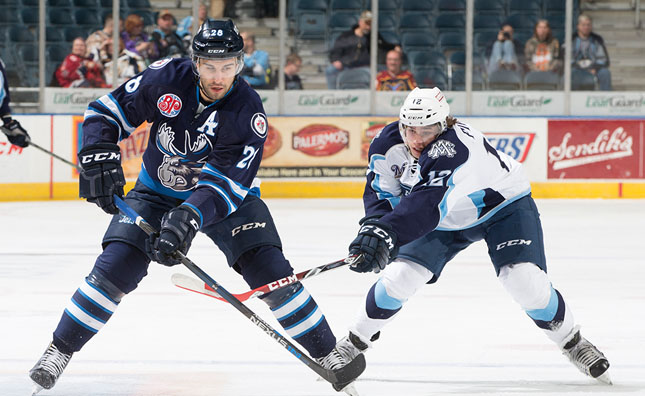 Milwaukee has been very kind to the Moose.
Manitoba were able to go into the BMO Harris Bradley Center on Tuesday night and for the second straight visit come away with a 3-2 victory.
Similar to their first game in Wisconsin on Oct. 29 both meetings finished with the same score and both times former Admiral Matt Halischuk opened the scoring.
Halischuk made a great play at the blue line to take the puck away from the Milwaukee defender and go in and score five hole on Marek Mazanek just 6:31 into the game to give the Moose an early lead.
Thomas Raffl scored his first career AHL goal later in the frame with assists from Brenden Kichton and JC Lipon. For Lipon, the assist extended his point streak to four games. He continues to lead the team in scoring and now has five goals and four assists in his last nine games.
The red hot Admirals team who had won eleven of their last twelve games coming in were able to tie the game by the midway point of the second period on goals from Max Gortz and Kevin Fiala.
Needing to once again get a jolt it was Moose team captain John Albert's turn.
With just under three minutes remaining in the second, Scott Kosmachuk caused a neutral zone turnover to send Albert in on a two-on-one. Albert elected to shoot, then collected his own rebound and scored to pull the Moose ahead and the team never looked back the rest of the way earning their fifth win of the season.
Albert has now scored nine career game winning goals with the Moose franchise dating back to his four years with the team in St. John's. He moves into a tie for ninth on the all-time franchise list for career GWG's.
The Moose were able to hold the Admirals to be just 1-for-8 with the man advantage, a season high for opportunities given up by Manitoba. The Moose went 0-for-4 on the powerplay.
Eric Comrie was brilliant again making 30 saves to pick up his third win of the season with the Moose being outshot 32-23.
The Moose will be right back in action Wednesday night when they travel to face the Chicago Wolves at 7 p.m.