Moose wrap up season series with Charlotte
By: Manitoba Moose Staff | Published: March 10th 2017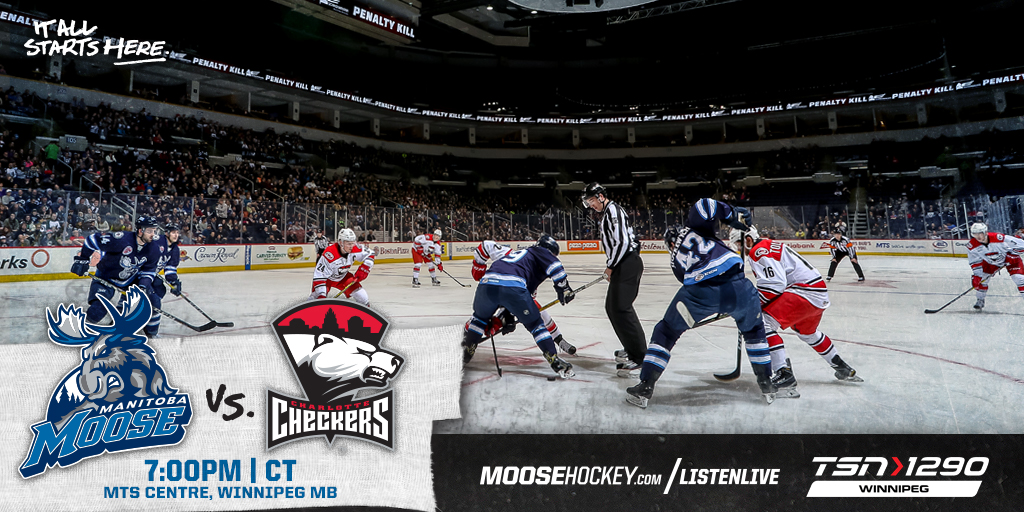 For the final time this season, the Manitoba Moose (23-29-4-4) and Charlotte Checkers (27-27-4-0) will go head-to-head when they faceoff tonight at MTS Centre at 7 p.m. CT.
Last Game
A high scoring first period contained most of last night's offence as Charlotte came away with the 4-3 victory. Brendan Lemieux, Patrice Cormier and Kevin Czuczman had the Moose markers while goaltender Eric Comrie made 23 saves in a losing effort.
Flash Back
Today's game is the eighth and final matchup between the Moose and Checkers this season. It's been quite even as the Moose hold a 2-3-2-0 record vs. Charlotte. Their most recent contest came back on Jan. 28 at Bojangles' Coliseum where the Moose lead wire-to-wire in a 2-1 victory. Moose forwards Brendan Lemieux and Kyle Connor netted the two Manitoba tallies.
Three for Czuczman
Kevin Czuczman was a regular on the score sheet last night. The London, ON product picked up two assists in the first period and scored his seventh goal of the season in the second. It was the second time this season Czuczman posted three points in a game and his third multi-point game of the campaign. Czuczman registered four shots on goal.
Scoring First
Thursday's game against the Checkers marked the sixth contest in a row the Moose scored the game's first goal. During that span, the Moose hold a 3-2-1-0 record and average four goals per game. The Moose have scored the first goal in 32 of the 60 games this season, picking up points in 20.
Charlotte's Story
The Checkers enter today's game looking to get back in the win column after being swept by Bakersfield last weekend. Charlotte is 5-4-1-0 in their last 10 games and sits just above the Moose in the Central Division standings in sixth place. The Carolina Hurricanes' AHL affiliate has had their share of struggles on the powerplay this season, operating at a league-worst 10.3 per cent. On the offensive side of things, forward Andrew Poturalski leads his team with 42 points (15G, 27A) through 58 games. Charlotte made a move at the AHL trade deadline on Thursday, bringing veteran goaltender Tom McCollum into the fold. Over 227 AHL games, the 27-year-old has a GAA of 2.78 and a .905 save percentage.
What's Next?
The Moose will have a day to gather themselves before the Toronto Marlies pay a visit to Winnipeg for a two-game set. Puck drop on Sunday (Mar. 12) is set for 2 p.m. CT. Sunday will be exciting for fans in attendance as it's Retro Jersey Day! The team will wear Moose uniforms from the 1996-97 season. For tickets to all Manitoba Moose home games, visit moosehockey.com/tickets.