Oligny Named Moose 2022-23 IOA/American Specialty AHL Man of the Year
By: Manitoba Moose Staff | Published: May 2nd 2023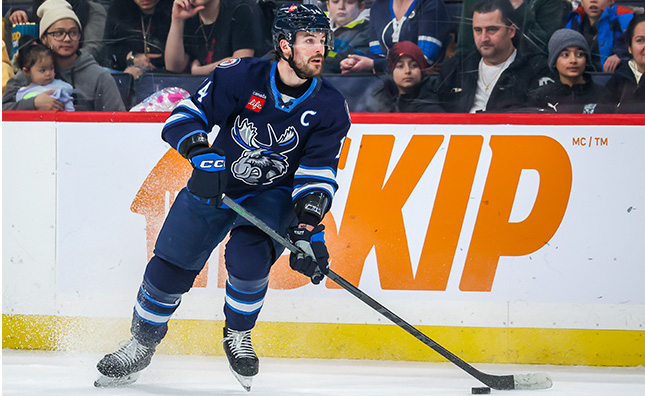 The Manitoba Moose Hockey Club is proud to announce Jimmy Oligny has been named the team's winner of the IOA/American Specialty AHL Man of the Year award for his outstanding contributions to the Winnipeg community during the 2022-23 season.
This is the second consecutive season Oligny, 30, has been named Manitoba's IOA/American Specialty AHL Man of the Year, and the fourth time in his AHL career between Manitoba and Milwaukee.
Oligny created a new program in conjunction with the Kinship and Foster Family Network of Manitoba. Kinship and Foster Family Network of Manitoba provides kinship and foster parents with training, guidance and assistance to enhance their capacities, knowledge and skills to provide quality care. As part of the program, Oligny hosted foster families at Moose home games. The foster children and their caregivers received Moose merchandise, tickets to the game and met with Oligny post-game.
Oligny is a frequent supporter of the True North Youth Foundation (TNYF). He spoke at the annual Jets Gala, an event that raised nearly $300,000 to support underserved youth in Manitoba. The St. Michel, Que. native worked with TNYF's Project 11, fielding students' mental wellness questions in both English and French, for the Moose Project 11 School Day Game. Oligny also traveled to Ecole Heritage Immersion to speak with students about mental health.
The Moose captain opened the season speaking to fans at Winnipeg Jets Fan Fast. He went on to spend time at a St.Amant autism early learning classroom, served breakfast at Siloam Mission and read to elementary students at Balmoral Hall School. The father of three helped raise funds for Camp Quality Manitoba by signing Moose mystery pucks to be sold at the team's annual Hockey Fights Cancer game. He also visited Assiniboine Park Zoo, along with teammates in January, to interact with fans. Finally, Oligny met with the puck drop participants from Manitoba's Pride Game to learn about their individual programs and how they're making a difference in the 2SLGBTQ+ community.
The league award is named after the former Hershey Bears forward and AHL All-Star who died in 1997 following a 16-month battle with leukemia. The winner of the Yanick Dupré Memorial Award will be announced by the American Hockey League on Thursday, May 4.
The Moose continue their Central Division Semifinals series against the Admirals in Milwaukee on Wednesday, May 3 at 7 p.m. CT. The best-of-five series is currently tied 1-1.
Coverage of Game 3 begins at 6:45 p.m. CT on CJOB.com/sports the Winnipeg Jets App or AHLTV