Petan scores as Moose fall to Monsters
By: Chris White | Published: November 27th 2015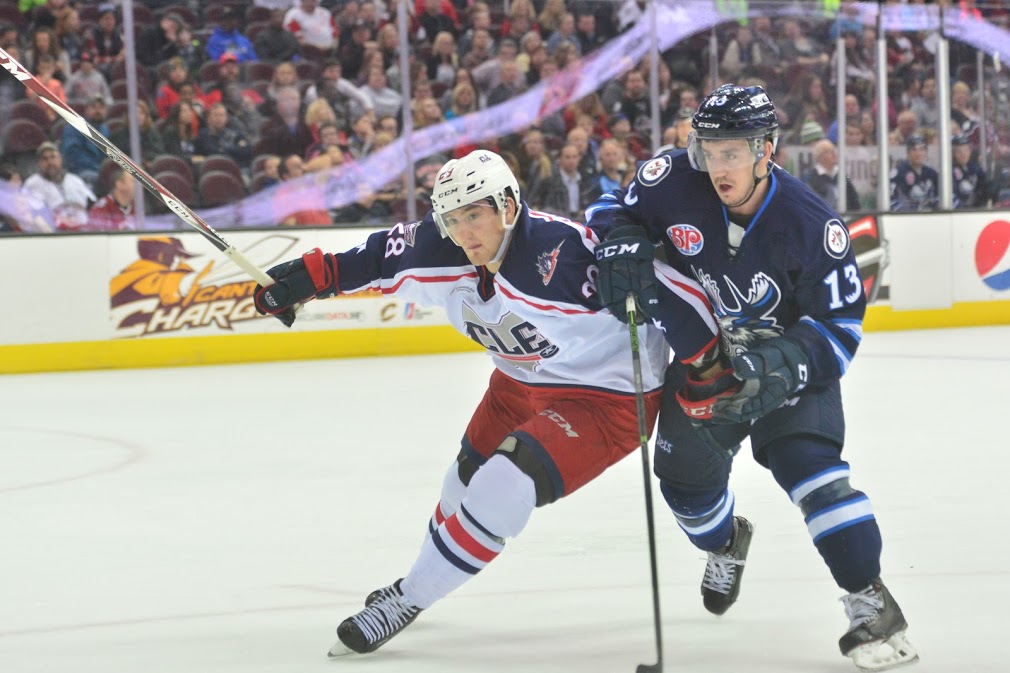 It was a good start for the Moose on Friday night at the Quicken Loans Arena in Cleveland, Ohio where Manitoba faced the Lake Erie Monsters. But as they say good things don't last forever.
The Moose came out with a strong opening road period, scoring just 1:30 into the game on a goal by Nic Petan, who scored his first career AHL goal after a rebound in front.
Manitoba frustrated the Monsters the rest of the period with their speed and energy. Lake Erie started a parade to the penalty box giving the Moose three powerplay opportunities including a five minute powerplay after a major penalty to Oleg Yevenko.
A high sticking penalty to Thomas Raffl would end that powerplay early but the Moose came up empty on all three chances, which would cost them.
After being outshot 10-4 in the first period the veteran Lake Erie team regrouped during the intermission and came back and took over the rest of the way.
The Monsters had unanswered goals from Michael Chaput, Nick Moutrey, Ryan Craig and Sonny Milano to come away with a 4-1 win.
Chaput in particular has been a Moose killer as he now has four goals and five points in four games against Manitoba this season.
Despite the score Eric Comrie was solid in net yet again making 27 saves as the Monsters outshot the Moose 31-25.
JC Lipon extended his point streak to three games with an assist. He has five goals and three assists for eight points in nine games during the month of November.
Defenceman Jay Harrison returned to the lineup after missing seven games with a lower body injury. He had an assist on the Moose goal, it was his third point of the season.
Lake Erie has now won all four matches in the season series with four games yet to play. They will meet again on Jan. 11 & 13 in Winnipeg.
The Moose will hit the mid-way part of their current road trip when they travel to Milwaukee to face the Admirals on Tuesday, Dec. 1. Puck drop is scheduled for 7 p.m. CT at the BMO Harris Bradley Center.