Preview: Next Stop, Bakersfield
By: Colin Peterson | Published: December 1st 2018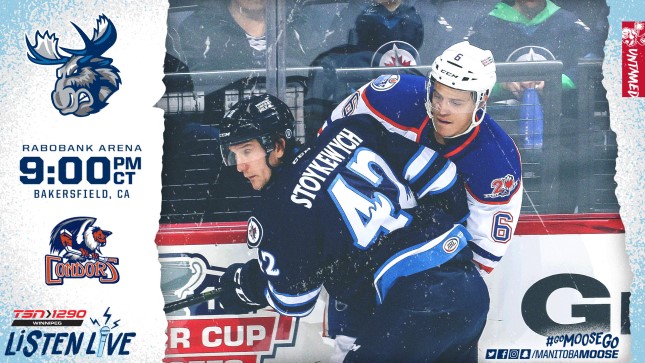 Dec. 1, 2018 at BAKERSFIELD CONDORS
The Manitoba Moose (10-10-1-0) move on to Bakersfield to take on the Condors (9-8-0-0) tonight at 9 p.m. CT. The match-up will be the third of six games on Manitoba's current California road trip and you can catch it on moosehockey.com/listenlive, the Moose App, or streamed live on AHLTV.  TSN 1290 will join the game in progress after their coverage of the Winnipeg Jets game against the New Jersey Devils.
The Moose might be limping into the game against the Condors after a battle in San Diego last night. In the second period alone, the Gulls and Manitoba amassed 19 penalties worth 72 penalty minutes. Four different Moose players (Tye McGinn, Logan Shaw, Felix Girard, and Marko Dano) were sent to the box with fighting majors in the game.
In the 2-1 loss to the Gulls, Jansen Harkins scored his third goal of the season, setting a new career-high. Eric Comrie also stood out, stopping 32 of 34 shots. So far, on the swing through his home state, Comrie has been stellar. The newly minted franchise leader in games played stopped 63 San Diego shots, netting a .955 save percentage in the two games.
In four meetings with the Condors in 2017-18, Manitoba split the games 2-2-0-0 taking a win and a loss at home as well as in Bakersfield. Cederholm and Woods each only played one game last season, but both played against the Condors in Winnipeg. Woods took part in a 4-1 win (April 6) while Cederholm played in the rematch, a 4-3 loss (April 8).
The Moose have been exceptional on the penalty kill lately. Manitoba hasn't given up a power play goal since Nov. 14, a span of six games. After defending a season-high seven infractions last night in San Diego, the Moose rank ninth in the AHL on the PK with a 83.5% kill rate.
The Moose and Bakersfield play again on Wednesday (Dec. 5) before Manitoba finishes the California trip in Stockton. You can track the rest of the swing on moosehockey.com.