Preview: Battling Back in Bakersfield
By: Colin Peterson | Published: December 5th 2018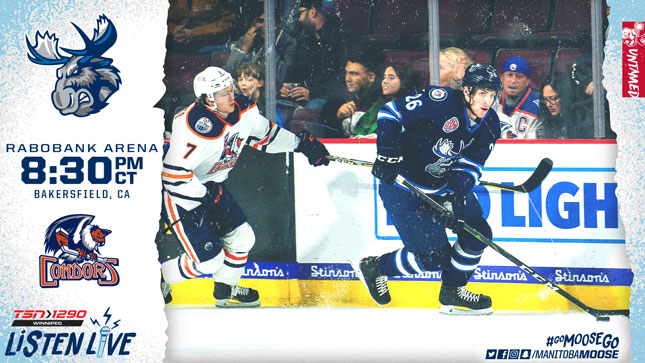 Dec. 5, 2018 at BAKERSFIELD CONDORS
The Manitoba Moose (10-11-1-0) take their second shot at the Bakersfield Condors (10-8-0-0) tonight at 8:30 p.m. CT. With more injuries piling up on the weekend, the team needs to show even more resilience to avenge a 4-0 loss to these same Condors on Saturday (Dec. 1). Tune in on TSN 1290, moosehockey.com/listenlive, the Moose App, or stream the game live on AHLTV, with the pre-game show starting 15 minutes before puck drop.
Despite the final score in the first meeting, for a Moose roster that has been in flux throughout the California trip there were many positives in the game. Goaltender Mikhail Berdin made 37 stops and, despite suffering his first AHL loss of the campaign, holds a 2.20 GAA and a 0.937 save percentage.
Assistant coach Marty Johnston thought the skaters made some strides as well.
"I thought our compete level was really good. Obviously we didn't like going down 2-0 in the first period, but I thought we bounced back fairly well in the second and really stuck with it right 'til the end. We had some really good chances in the third period."
For tonight's rematch there could be even more changes to the lineup, and two players making their Moose debuts. On Tuesday, the club signed two players from the ECHL to professional tryouts in defenceman Dajon Mingo and forward Austin Carroll. This season, Mingo played 21 games with the Jacksonville Icemen (5G, 10A) while Carroll made 21 appearances with the Utah Grizzlies (6G, 10A).
It's not uncommon to see player movement between the NHL, AHL , and ECHL. According Manitoba defenceman Charles-David Beaudoin it's the team's job to make sure all newcomers feel welcome.
"We've all been part of this. At one point we got called up or we've been in a new group. So you just [need to] feel good with the team, feel you're part of it. It makes a big difference. Off the ice it's important to talk to them, bring them for supper or whatever. Make sure they feel comfortable, and then on the ice it's going to show. They're going to play with more confidence."
Beaudoin has been wearing the alternate captain's "A" throughout the trip with JC Lipon sidelined due to injury and Cameron Schilling is currently with the Winnipeg Jets.
At the midway point of the California swing, the Moose are 1-2-0-0 but are only one week past one of their best performances of the season, when they beat San Diego 5-1 on Nov 28.
Manitoba finishes up the six-game trip this weekend in Stockton (Dec. 7/Dec. 8) after which the team returns home for a six-game home stand. That stretch begins when the reigning Calder Cup Champs come to town with back-to-back games against the Toronto Marlies (Dec. 14/Dec. 15). Head to moosehockey.com/tickets for tickets.