Preview: The Holiday Game
By: Colin Peterson | Published: December 22nd 2018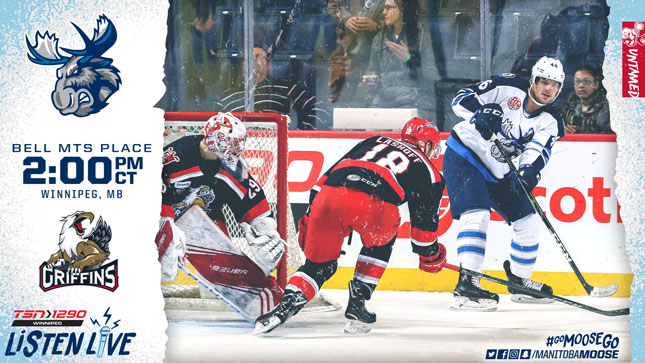 Dec. 22, 2018 vs GRAND RAPIDS
The Manitoba Moose (11-15-2-0) try to split their weekend series with the Grand Rapids Griffins (16-11-2-2) today at 2 p.m. CT. The pair battled last night at Bell MTS Place with the Griffins pulling out the 4-1 victory. Today's game is also the club's Holiday Game, so head to moosehockey.com/tickets/ and bring the whole family down for free photos with Santa, a Moose snow globe giveaway for the first 3,000 fans, and some Manitoba Moose hockey.
The Griffins struck first in last night's contest with nearly six minutes left in the opening period, but Manitoba responded on Austin Carroll's first goal as a member of the Moose.
Carroll finished off a Felix Girard feed from behind the net that fooled Grand Rapids with 43 seconds left until the first intermission. The Moose kept things tied after the second frame, while being outshot 20-10 at that point. It was the third when the game changed on three Griffins goals in a matter of 2:13.
Carroll felt the team had played well and felt good up until the Grand Rapids outburst.
"I think we did a pretty good job of making it a close contest. Just to see it slip away, it's tough. We've got to learn from it, make a push. We've got a long season ahead of us."
Manitoba's penalty kill was the star of Friday's game for the home squad. The group killed off all five penalties they faced, including 5:54 straight at the end of the second period.
Most importantly, they checked every box in Head Coach Pascal Vincent's list.
"I thought we were aggressive when we had to be. We were protecting the blue line pretty well, our forecheck was good, defending the entry was good. We managed to force Grand Rapids move the puck where we wanted. And again, being in the shooting lane when we had to, and being aggressive when we had to."
The Moose are still dealing with some injuries up front, with only five forwards playing in both last night's game, and the previous meeting with the Griffins, on Nov. 17. Finding scoring from sources like Carroll will be key if the Moose are going to end their four-game losing streak.
You can tune in to the game on TSN 1290, moosehockey.com/listenlive/, the Moose App, and AHLTV. The Moose will be back at Bell MTS Place in just over a week for two games against the Colorado Eagles on Dec. 30, and Dec. 31.