Preview: New Years Eve Game
By: Colin Peterson | Published: December 31st 2018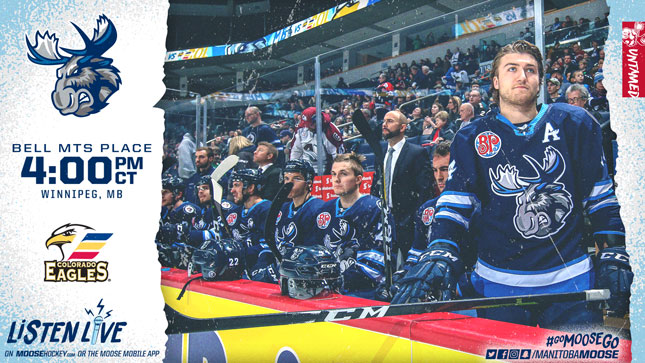 Dec. 31, 2018 vs COLORADO EAGLES
The rematch between the Manitoba Moose (12-16-2-0) and the Colorado Eagles (15-11-3-1) goes today at 4 p.m CT. Tickets for the New Year's Eve Game are nearly sold out, so head moosehockey.com/tickets/ quickly to join the biggest party in the city.
Today's game is also the club's Shutout Hunger game, presented by Red River Co-op, in support of the Manitoba Association of Food Banks. Fans who bring non-perishable food items or a cash donation will be entered to win an autographed Manitoba Moose jersey or tickets to future Moose home games.
The Moose have been successful in previous Dec. 31 games, with a 13-8-0-0 record, dating back to the IHL and including their IceCaps seasons. When the New Year's Eve Game is in Winnipeg, the Moose are 12-4-0-0, and riding an eight-game win streak.
In the first meeting between Manitoba and Colorado, Eric Comrie recorded his first shutout of the season, stopping all 38 Eagles shots.
"Actually I felt a little bit rusty tonight, which is kind of weird to say. Sometimes you feel great and pucks go in, and sometimes you feel a little rusty and pucks hit you. That's what kind of happened for me tonight."
Forward Skyler McKenzie, who was one of four different goal scorers from three different lines, said the depth scoring was key, but acknowledged home important their netminder was in getting the win."
"It's huge. You get that contribution from everyone and you're going to win hockey games if you're scoring more than one or two goals a game. It's huge. Comrie had a hell of a game tonight, so props to him. It's a 4-0 game but it could have been a lot different if he wasn't in net."
Brent Pedersen scored the final marker for the Moose, the first of his AHL career, and his second point in the four games since joining the club.
Seth Griffith and JC Lipon, meanwhile, made their long awaited returns to the Manitoba lineup. Lipon last played on Nov. 28, but led the team on Sunday with five shots. Griffith, who's been out since Dec. 1, had an assist on McKenzie's goal as well as Logan Shaw's power play tally.
If you can't make it to the game but want some hockey for your own New Years Eve party, tune in on moosehockey.com/listenlive/, the Moose App, or stream the game live on AHLTV.