Preview: Moose vs. Chicago – Dec. 7
By: Daniel Fink | Published: December 7th 2019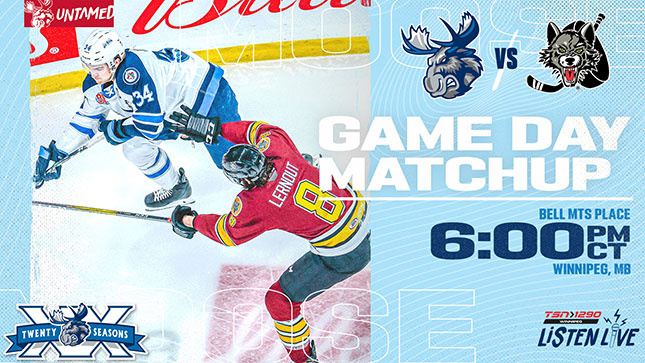 Moose vs. Chicago – Bell MTS Place– 6 p.m. CT
Broadcast: TSN 1290, moosehockey.com/listenlive, AHLTV
They weren't the prettiest two points, but win number 13 for the Moose looks great on the standings page on theahl.com. A 3-1 victory sets up a rematch between the Moose and Wolves tonight at Bell MTS Place. It's the third time in four games the two teams meet up and fifth time this season. Manitoba has won three straight games over its divisional rival from the "Windy City".
The Moose surrendered the opening goal just 2:18 into the contest last night, but didn't allow another on the way to the win. Jimmy Oligny tied things up in the second period. He just managed to squeeze a slap shot from the half-wall past Garret Sparks. Kristian Vesalainen scored the game-winner on a pass that redirected into the Chicago net off a defender's skate. Skyler McKenzie finished things off into an empty net, and was nearly followed by Mikhail Berdin.
"First period was slow, but the second period I thought we made some goofy plays," said Moose head coach Pascal Vincent. "It felt like our brains were in the mud. Some plays I haven't seen a long time, playing east-west. After the second period we just regrouped. We talked about how we were going to play only that third period and making sure we stay on track and do the right things."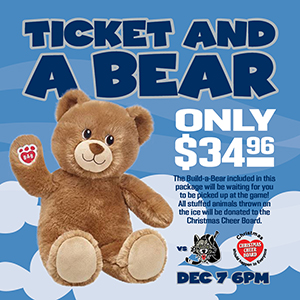 Despite the struggles, the Moose were able to come out with a couple points that helped them maintain pace with the Rockford IceHogs in standings while gaining ground on San Antonio and Iowa. Even just 25 games into the 76-game schedule, picking up another regulation win against a divisional opponent is crucial for the Moose. Especially one they see 12 times this season like Chicago.
The Moose saw their top line held off the board last night, but got separate contributions. Skyler McKenzie racked up a career-high three points (1G, 2A), factoring in on every Moose goal. Leon Gawanke took over the team's rookie scoring lead with his first multi-assist game as a professional. McKenzie has seven points (3G, 4A) over his past seven games, while Gawanke has racked up four points (1G, 3A) in the last two outings at Bell MTS Place.
"That line has been really good. I thought that was our best line tonight," said Vincent regarding the the line of McKenzie, C.J. Suess and Emile Poirier. "They were on the puck. Skyler has been really good on the forecheck. He has been really good consistently in the last little while. Him, C.J. (Suess) and Emile Poirier, they've been really consistent as far as creating momentum and creating some forecheck, getting pucks back and playing well defensively. That's been a good line for us, and I think it's a combination of all three."
Aside from the hockey tonight, it's the annual Teddy Bear Toss, presented by Red River Co-op, in support of the Christmas Cheer Board. Fans are encouraged to bring plush toys to throw on the ice during the first intermission. The toys will be collected and distributed by the Christmas Cheer Board this holiday season. Tickets for the can't miss event are available at moosehockey.com/tickets.
Coverage of tonight's matchup on TSN 1290, moosehockey.com/listenlive and AHLTV gets going at 5:45 p.m. CT, with puck drop at 6 p.m.