PREVIEW: Back in Grand Rapids
By: Colin Peterson | Published: February 7th 2018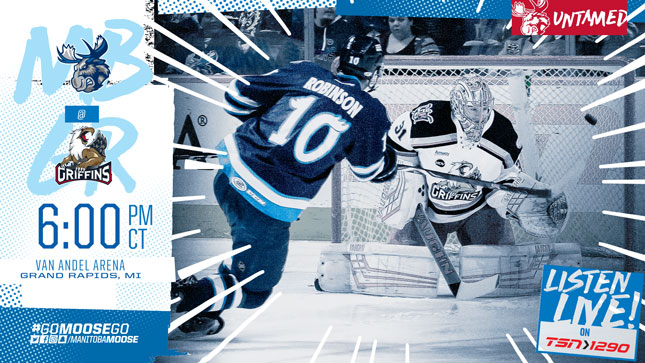 The Manitoba Moose (31-10-3-3) are on to game four of the six-game road trip. Tonight, they're in Grand Rapids to take on the Griffins (24-18-1-5). This is the final regular season game for the Moose at Van Andel Arena, where they've won two of three at the Griffins home arena. Catch Steve Schuster and the pregame show at 5:45 p.m. (CT) on TSN 1290, moosehockey.com/listenlive/, or the Moose Mobile App.
LANDMARK GAME
Tonight's contest marks the 1,000 time the Moose take to the ice in the AHL, playing out of Manitoba. Following their move to Manitoba from Minnesota, the Moose played five seasons in the IHL before the team made its AHL debut on Oct. 5, 2001. From there, Manitoba played 10 seasons before the franchise moved to St. John's for four campaigns, playing as the IceCaps. The franchise returned to Winnipeg as the Moose for the 2015-16 AHL season. Coming into their 1000th game as the Moose, the team holds a 506-375-118 record all-time.
CAREER HIGH
Forward Patrice Cormier notched his 19th goal of the season last night to set a career high. The mark eclipses the 18 goals Cormier scored in his first full AHL season in 2011-12. The Moncton, NB native also has 33 points on the campaign which matches his career high from that same season. Cormier is tied with Buddy Robinson for the Moose lead in goals.
ROAD SERIES
The visiting team has won four of five games between the Moose and Griffins this season. Grand Rapids has the only win on home ice, taking a 5-2 victory in the season opener. The road team has outscored the home team by a 20-11 count thus far in the season series. The visitors have won by three or more goals in three of the five games.
SHORTIES
Forward Buddy Robinson scored his second shorthanded goal of the season yesterday. The Bellmawr, NJ product has five shorthanded points (2G, 3A) on the season to lead the Moose, and is tied for second in the AHL. As a team, Manitoba is tied for third in the league with eight shorthanded goals on the season.
THAT'S 20
Defenceman Cameron Schilling picked up his 20th assist of the season in Milwaukee to reach the mark for the first time in his career. Schilling is one of five Moose players with 20 assists so far on the campaign. That's already one more than Manitoba had all of last season.
WHAT'S NEXT?
The Moose wrap up the road trip this weekend in Cleveland where they play a two-game set against the Monsters (Feb. 9, Feb .11). All the coverage for those matchups is available at moosehockey.com/listenlive/ and the Moose Mobile App.