Fast Facts: Moose vs. Toronto – Feb. 18
By: Manitoba Moose Staff | Published: February 18th 2021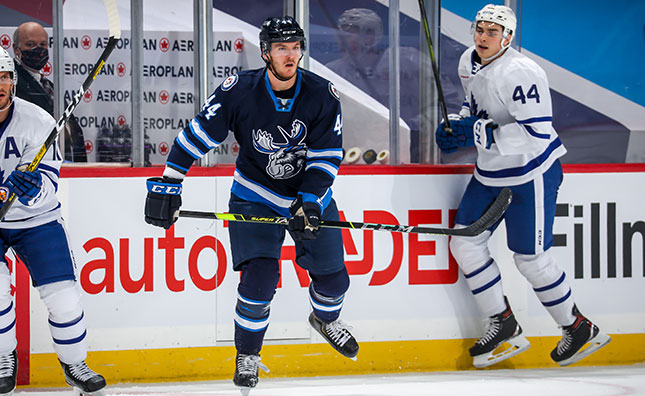 The Moose are looking for a consistent game tonight when they take on the Toronto Marlies. It's the third contest of a four-game set with the home-side trying for its first win of the season. Toronto broke open Tuesday's game with a four-goal second period. Manitoba seeks to cash in with more offence and avoid costly lapses in the penultimate matchup of this series. Catch the game on cjob.com/sports and moosehockey.com/listenlive or watch with a subscription to AHLTV. Puck drop is 6 p.m. CT, with game coverage beginning at 6:45 p.m.
Here are some Fast Facts to get you set up for tonight's tilt.
Back-to-Back
Bobby Lynch is currently on a two-game assist streak where he has recorded two assists during Manitoba's first two games of the 2020-21 season. As Lynch has proved before, the forward is not stranger to going on hot streaks. During the 2019-20 campaign, Lynch appeared in 51 games and recorded 28 points (14G, 14A) with the Jacksonville Icemen. The Grand Blanc, Mich. product marked point streaks on four different occasions last season. Most recently, Lynch posted four points (2G, 2A) during a four-game point streak that lasted from
March 1/20 – March 7/20.
Share the Wealth
During Manitoba's first two games of the season, eight different players have contributed a point. Notably, Cole Perfetti and Declan Chisholm wasted no time and recorded their first AHL goal in their professional debut. During last night's contest against the Marlies, Tyler Graovac posted his first assist with the Moose. Kristian Reichel (1G), Nathan Todd (1G), Johnathan Kovacevic (1A), Joona Luoto (1A) and C.J. Suess (1A) have also made a dent on the stat sheet. Bobby Lynch currently leads the Moose with two assists and is the only player on the team who has recorded multiple points.
Starting off Right
The Moose have scored four goals over the last two games. All four tallies came during the first period of play. Just 6:24 into Manitoba's home opener on Monday, Feb. 15/21, Declan Chisholm scored Manitoba's first goal of the season. At 15:19 in the first period, Cole Perfetti also got on the board. In last night's matchup, 4:25 into the first period, Kristian Reichel capitalized on C.J. Suess' rebound. Just over five minutes later, Nathan Todd sent a one-timer past Marlies netminder Andrew D'Agostini. During the 2019-20 season, the Moose posted a 14-2-1-0 record when leading after the first period.
First in Antlers
During Tuesday night's game against the Marlies, Tyler Graovac was credited with an assist on Nathan Todd's first period tally. This marks Graovac's first point with the Moose. The forward is an AHL veteran who has 185 points (87G, 98A) in 333 career AHL contests.