Preview: Brunch-time Hockey in Toronto
By: Colin Peterson | Published: February 27th 2019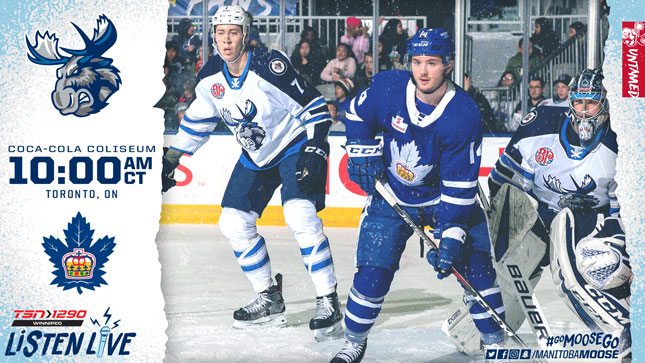 Feb. 27, 2019 vs Laval Rocket
The Manitoba Moose (25-25-3-2) and Toronto Marlies (29-18-6-3) face off for the second straight Wednesday morning, in a 10 a.m. CT school day game. Today's game at Coca-Cola Coliseum will be broadcast on TSN2.
Generating offence away from Bell MTS Place is one of Manitoba's biggest challenges this season. On the road, Manitoba sit last in the AHL with 50 tallies, or an average of 1.85 goals per game. That sits in stark contrast to the 90 goals, or average of 3.21 per game, the team has scored in downtown Winnipeg.
Luckily, reinforcements have arrived in the form of Mason Appleton and Tucker Poolman. Poolman went on an eight-game point streak (1G, 8A) shortly before being called up by the Jets on Feb. 19. Poolman (3G, 14A) is currently tied with Cameron Schilling (2G, 15A) as Manitoba's top scoring d-men with 17 points.
Appleton, the reigning AHL Rookie of the Year, hasn't worn a Moose jersey since Nov. 24, but in 19 games with the Moose this season he recorded 18 points (8G, 10A). Appleton scored 22 times last season, 10 of which came on the road.
The pair can also help by shaking up the power play. The Moose man advantage has struggled lately. The group has been stymied on their last 18 opportunities, and haven't scored in six games.
The power play did generate multiple scoring chances in the team's last game in Laval, but according to first-year defenceman, Logan Stanley, it's a matter of simplifying some details.
"We've just got to be a little cleaner with our zone entries and maybe just start shooting the puck a little bit more with some traffic in front."
Despite being in his first year, Stanley has been counted on to play a lot of minutes. Stanley (52) and Nelson Nogier (53) lead the Moose defencemen in games played this season as the only two who have topped 45 games, so far, in 2018-19. Michael Spacek (53) and Jansen Harkins (51) lead the forwards in games played, emphasizing the experience being gained by some of the Jets top prospects.
That experience is about long-term success, but players like Stanley have shown they're acclimating to the expectations of teammates and the coaching staff quickly. He was asked this week about where the club sits in the standings and, like his veteran teammates, didn't shy away from reiterating the team's goals.
"Obviously, I don't think it's been good enough. From myself out, I think we've got to be better if we want to get some points and really make a push for these playoffs. We all want to be in the playoffs, but we need to start playing a little more like it, and playing a little bit harder to earn those points."
The Moose finish off their six-game road trip with back-to-back games in Belleville on Friday and Saturday. Moose fans can tune in to those games on moosehockey.com/listenlive/, the Moose App, or stream the action live on AHLTV.