Preview: Seeing the Stars
By: Colin Peterson | Published: January 4th 2019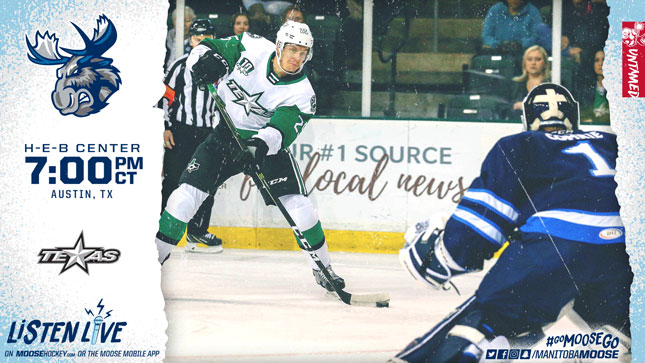 Jan. 4, 2019 vs TEXAS STARS
The Manitoba Moose (13-17-2-0) continue their trip through Texas tonight just outside Austin, where they take on the Stars (17-11-3-1). The 7 p.m. CT puck drop will be available on moosehockey.com/listenlive/, the Moose App, and streaming live on AHLTV.
The Moose try to bounce back from a 3-1 loss in San Antonio on Wednesday. In that game, Eric Comrie starred in goal for his club, turning away 32 of 34 Rampage shots. Comrie has been outstanding for Manitoba since the holiday break, making 101 saves and allowing only three goals. That works out to .971 SV% over three straight starts.
Regardless of his personal success, Comrie knows the close loss was a missed opportunity.
"We just didn't get it done tonight. We didn't win the game, and that's a really important game for us. We know where we are in the standings, we know where they are. It's playoff time for us. We need to start winning games."
It's been a tough stretch for Manitoba, who've lost five of their last seven games. The two wins came against the Colorado Eagles less than a week ago. Those victories are something the team is determined to build on.
Captain Peter Stoykewych said the play that brought them success against Colorado showed up against San Antonio, but it started too late.
"We thought we played well when we finally got going there. I think we learned a valuable lesson about how the second half of the season can go, and how the game really ramps up here in the second half. We found out the hard way."
Tonight's game is the second of eight meetings this season between the Stars and Moose. Manitoba took the first matchup 5-4 (Nov. 14) on a night where Logan Shaw scored twice and added an assist. If Shaw can find some success against the Stars again, it would break a six-game slump over which the Moose leader in goals and points has only marked the scoresheet once.
Manitoba is looking up from the bottom of the Central Division standings, but with so many games left against the Stars and their other rivals a two-game series like this weekend's is an opportunity to climb the rankings.
Stoykewych looks at tonight as a chance for his team to turn their season around.
"You play divisional opponents so often in our league that those games count as four-point games. When you drop one it really affects you and really stalls your momentum. We were able to get the two to start after the Christmas break. Weren't able to build on it so we've got to get right back on track, we can't allow ourselves to take a step backwards. We've got to push forward here moving into Austin."
The Moose and Stars finish off the two-game series tomorrow night, at 7 p.m. CT. That also wraps up Manitoba's road trip as they'll begin a six-game home stand in Winnipeg on Jan. 10 versus the Laval Rocket. For tickets, head to moosehockey.com/tickets/.