Preview: Autism Awareness Game
By: Colin Peterson | Published: March 9th 2019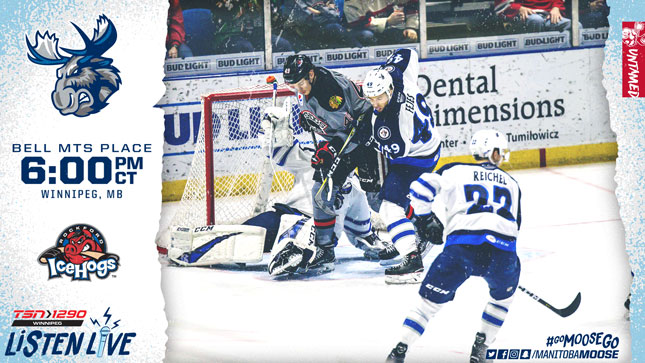 March 9, 2019 vs Rockford IceHogs
The Manitoba Moose (27-26-3-2) play their first game at Bell MTS Place in 18 days against the Rockford IceHogs (27-23-3-6) at 6 p.m. CT. Can't make it to the game? Tonight's matchup will be available on TSN 1290,  moosehockey.com/listenlive/, the Moose App, and streamed live on AHLTV.
This evening's affair is also the annual Autism Awareness Game presented by Red River Co-op. The Moose will wear specialty jerseys which will be auctioned off on the concourse during the game, and online afterwards, with proceeds benefiting the St.Amant Foundation. Fans can also purchase teddy bears wearing mini replica jerseys on the concourse for $15.  Funds raised from teddy bear sales will also support St.Amant.
The Moose have only played Rockford twice in 2018-19, but both games went the distance, ending in a shootout. Manitoba won the first matchup, 2-1, on Mikhail Berdin's 35 saves and three stops in the shootout, while Seth Griffith scored the winner. In game two, on Jan. 25, the IceHogs eliminated a 3-1 Manitoba lead in the final two minutes of regulation, before Jordan Schroeder secured the win for his club in the shootout.
With tight battles in the past, the Moose spent the week preparing for a pair of close games this weekend. Manitoba's coaching staff used a six-day break get their roster some rest early in the week. The team also had time for several long practices as well as off-ice activities like the team's Stick to Reading visits to various Winnipeg classrooms.
Rockford hasn't played a game since March 1, so as Moose forward Logan Shaw pointed out, the team's start will be critical to securing a win.
"We know that we can play with these guys, we know that we can beat them. We're a good team. They're also a good, fast, hard-working team. It's important for us to come out in the first 10 minutes. They haven't played in just as long of a stretch as we have. So, for us, it's to bring it to them in the first 10 minutes."
Manitoba sits among a group of five teams battling for fourth place in the Central Division with Rockford, Texas, Milwaukee, and San Antonio all fighting to make it to the post-season.
As defenceman Charles-David Beaudoin pointed out, for professional competitors, a two-game series against one of the clubs above them in the standings is a major opportunity.
"You're a hockey player because you want to compete, you want to make the playoffs. Right now, we're right there. We're just out of the playoffs by two, three points so it's going to be a fun weekend ahead of us."
Manitoba and Rockford play again on Sunday at 2 p.m. CT, in the final regular season meeting between the two clubs. For tickets to tomorrow's game and all the action at Bell MTS Place, head to moosehockey.com/tickets.