Preview: Rematch with Rockford
By: Colin Peterson | Published: March 10th 2019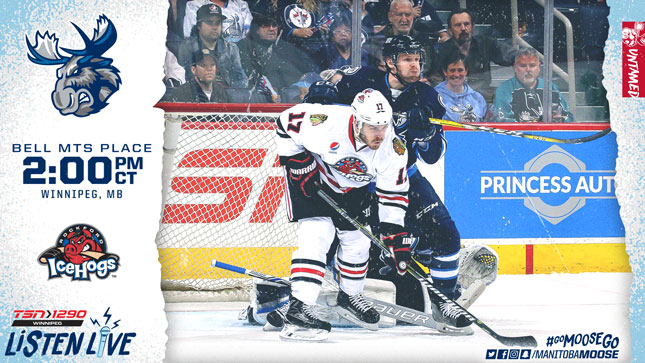 March 10, 2019 vs Rockford IceHogs
The Manitoba Moose (28-26-3-2) take on the Rockford IceHogs (27-24-3-6) this afternoon at 2 p.m. CT in a rematch of last night's 3-1 Moose win. Tickets for today's game are available at moosehockey.com/tickets.
The Moose took the first of the back-to-back games on big nights for Eric Comrie (33 saves), Alexis D'Aoust (1G, 1A), Kristian Reichel (2A) and Ryan White (1G).
For D'Aoust and Reichel, it was their first multi-point games of the season, and for the rookie Reichel, the first of his AHL career. While White's marker, the game-winner, was his first as a member of the Moose. The Brandon, Man. native was also playing in his first game since Dec. 1 due to an injury.
After the victory, White spoke with a grin about not only scoring, but getting in on the physical side of the game as well.
"It felt good. I took a couple [hits] out there tonight too. It feels good to be back in the mix. I'm healthy and it's fun playing hockey again."
The win adds to an impressive run at Bell MTS Place. The Moose are 13-1-0-1 at home since Dec. 30, and outscoring their opposition 65-28 over that span. With 19 home victories this season, the Moose already have more wins at Bell MTS Place this season than any of the past three since returning to Winnipeg.
White, formerly of the Iowa Wild, was asked what's been working for the club in downtown Winnipeg as a player who's experienced it from both sides of the rink.
"It's always been a tough place to play. You come all the way up here, and you know you're coming in for two [games]. Our mindset, all the time, is a playoff game when you come in for the first one and we want to set a tone. We've done a good job of that."
Maybe the biggest factor on home ice has been the play of Comrie. The fourth-year netminder has built up a record of 16-4-1 at Bell MTS Place this season, with a 2.40 goals against average, and a save percentage of 0.936.
The strong defensive game from Manitoba was punctuated by a stellar performance from the penalty killers. Comrie and company stopped all six Rockford man advantages on Saturday night.
"We had a meeting right before we went on a run there, where Pascal [Vincent] said, 'Hey, power play is important, but PK is the most important thing. If we can shut teams down on our penalty kill, we can win games.' The guys have bought into that, and [assistant coach Eric Dubois] has done an excellent job of making sure that we know what to do on the ice."
Today's game will be available on moosehockey.com/listenlive/, the Moose App, and streamed live on AHLTV. TSN 1290 will carry Mitch Peacock's play-by-play call until Winnipeg Jets coverage begins at 3 p.m. CT. The Moose continue their six-game homestand with the Texas Stars coming to town for a two -set beginning on Wednesday, March 13.