Fast Facts: Moose at Rockford – March 15
By: Manitoba Moose Staff | Published: March 15th 2023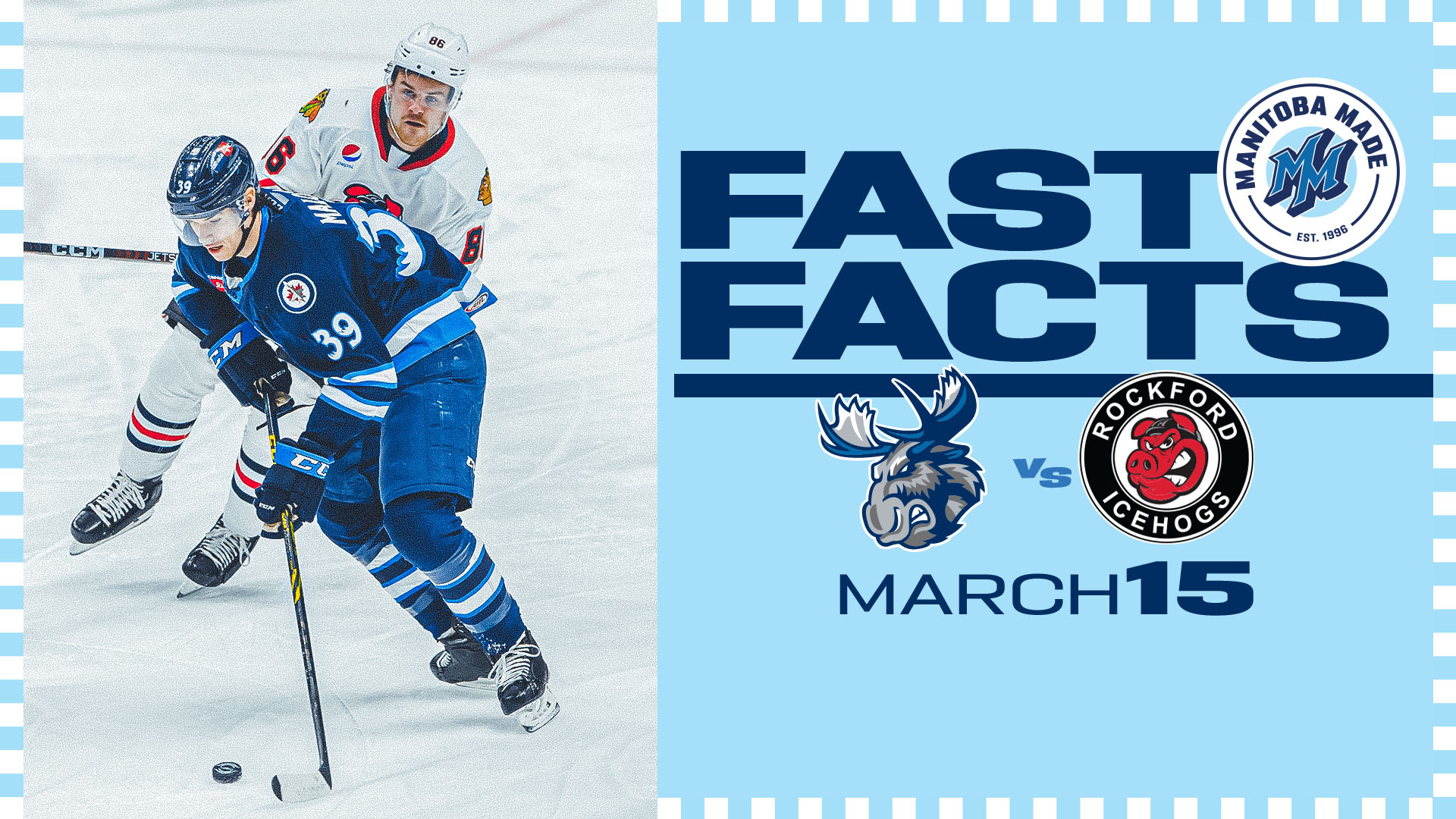 The Manitoba Moose try to get back on track tonight as they face off against the Rockford IceHogs. The Moose have dropped three straight games heading into the second-half of their seven-game road trip. Both teams seek a return to the win column after the IceHogs lost their previous two outings. Manitoba has points in all four games against Rockford this season with a 2-0-1-1 record in the season series. The Moose take on the IceHogs in three of their next five games. Coverage of tonight's 7 p.m. CT matchup begins at 6:45 p.m. CT on CJOB.com/sports, the Winnipeg Jets App and AHLTV.
Greg Gets It
Greg Meireles tallied a goal and an assist in Sunday's loss. The two-point afternoon was Meireles' first of the season and seventh of his AHL career. Meireles, a Florida Panthers sixth round pick in 2019, has six points (2G, 4A) over his past 10 contests and 11 points (5G, 6A) in 47 games. The Ottawa, Ont. product's second period goal on Sunday also matched his career-high from 2021-22. Over his AHL career, Meireles has recorded 38 points (10G, 28A) in 99 games.
Chase for 100
Forward Jeff Malott and defenceman Leon Gawanke are both closing in on 100 career AHL points. Entering tonight's contest, Malott is six away, accumulating 94 points (56G, 38A) in 152 AHL contests.  Gawanke, who is also closing in on 200 AHL games, has 98 points (29G, 69A) to his name in 193 contests. If Malott and Gawanke accomplish the feat, it would make them the third and fourth Moose skaters this season to hit the 100-point mark in their AHL careers. Alex Limoges and Jansen Harkins each reached the century mark on Feb. 10 and 11 respectively in Grand Rapids earlier this season. If they both hit the point mark before season's end, Gawnake and Malott have the opportunity to be the 39th and 40th players in franchise history to record 100 points with the organization.
Efficient After 40
Manitoba's 4-2 defeat on Sunday was the first time the team lost in regulation when entering the third period with a lead. The Moose hold a 22-1-2-1 record when leading through two periods of play. The IceHogs own one of the four wins against Manitoba when they hold a lead into the third. Despite their impressive record with the lead, the Moose have been outscored 58-68 in the third period. Manitoba tends to outshoot its opponents in the third, posting 542 shots for while surrendering 519 shots against. The antlered ones are also 12-5-3-0 with a lead after the first period and hold a 14-5-1-2 mark when tied through the opening 20 minutes.
Puck Distributor
Declan Chisholm notched his 36th assist on Sunday afternoon. The defenceman, a Winnipeg Jets 2018 fifth round pick, ranks second on the Moose with 41 points (5G, 36A) and stands first among the antlered ones in assists. The Bowmanville, Ont. product tallied seven points (1G, 6A) in his past 10 games and ranks fourth in the AHL among all defenders in assists. When Chisholm records two or more assists in a single game this season, the Moose lay claim to a 6-1-0-0 record.
Who's Trending?
Wyatt Bongiovanni notched an assist on Sunday. The assist brings the forward's total to 17 points (12G, 5A) over 51 games. Bongiovanni leads Manitoba rookies in both goals and points. The pivot also paces the first-year Moose with five power play goals, a mark tied for 11th among AHL rookies.