FAST FACTS: Moose vs. Laval – March 28
By: Manitoba Moose Staff | Published: March 28th 2021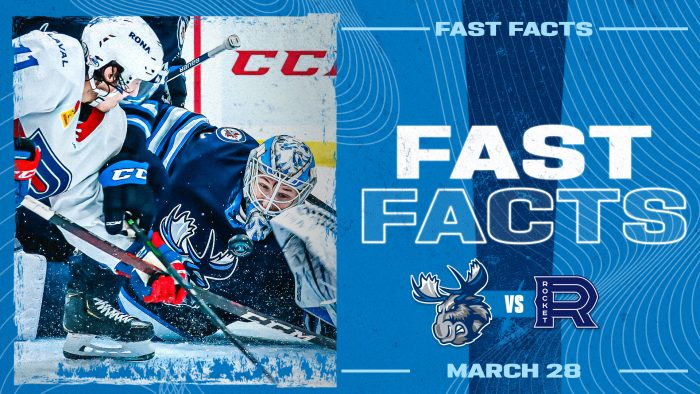 After splitting the first two games of their series, the Moose and Rocket clash once again this afternoon at Bell MTS Iceplex. The margin of victory through two games has been very slim. Manitoba grabbed a 4-3 shootout win on Thursday, while Laval replied with a 1-0 win on Friday. Tune in to today's matchup on cjob.com/sports and MooseHockey.com/ListenLive or watch with a subscription to AHLTV. Coverage begins at 1:45 p.m. CT with puck drop at 2 p.m. CT.
Whoa We're Halfway There
The Moose reached the midway point of the season with Friday's defeat. The club sits at an even 8-8-2-0 on the campaign. Sitting at .500, it's the best points percentage at the halfway mark the team has held since 2017-18 when the Moose were at .724. At the mid-point Manitoba holds the sixth ranked power play (25.0%) in the AHL. The Moose have scored 50 goals, averaging 2.78 per contest. The club is the least penalized in the Canadian Division with just 123 penalty minutes, an average of 6.83 per game.
Stingy In The Third
Over the past four games, the Moose have not allowed more than four shots on goal in the third period, only surrendering three in a trio of those games. Overall, the Moose have surrendered 159 shots on goal in the third period this season, an average of just 8.83 shots. This is the least allowed by the club in any frame. Along with those low shot counts, Manitoba has allowed just 12 third period goals in 18 games. Goaltender Mikhail Berdin has a .926 save percentage in the final frame and has held teams off the scoresheet seven times in the third.
Sunday Funday
Today's game is the first Sunday game the Moose play this season. The club has already played on every other day of the week through their first 18 games. During the 2019-20 season, the Moose played eight of their 61 games on Sundays. This campaign, the club plays games on Sunday just three times, including twice in the final week of the season.
Get Up and Go
The Moose have played four games starting 4 p.m. or earlier this season and hold a 3-1-0-0 record in those contests. Goaltender Mikhail Berdin has been nearly unbeatable in his early starts, surrendering just three goals in two games. The Ufa, Russia product has a .957 save percentage in those starts. David Gustafsson leads the way for the Moose in early contests with four points (1G, 3A) in two games. Nathan Todd and Jeff Malott also have four points in early contests, though have played in all four of the games.